MDA really does need to get its story straight. In November 2007, Rear Admiral Alan B. Hicks, Program Director for Aegis, gave a presentation at the George C. Marshall Institute indicating six Aegis ships armed with the SM-3 Block IB interceptor would be needed to defend NATO.
But replace that interceptor with the upgraded SM-3 Block IIA interceptor that's in the hopper for delivery by 2016, says Adm. Hicks, and just two Aegis ships are required to provide nearly gapless coverage of Europe. Check it out: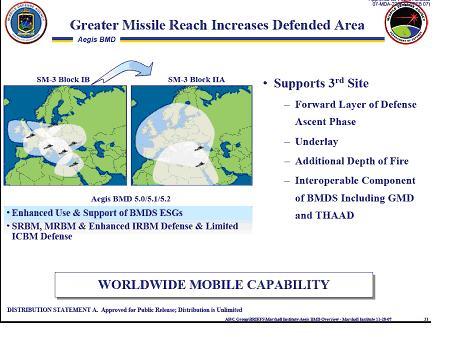 As Jeffrey points out, MDA head Obering told a radically different story just months earlier:
It will require 10 Aegis ships on station with SM-3 Block IIA interceptors to provide 40 to 60% coverage of Europe (central Europe would not be protected). To provide this persistent partial coverage, it would require four rotations for a total of 40 ships dedicated to the European defense.
First forty, then two, now apparently four ships? And 40-60% coverage to nearly complete coverage? I mean, really. Rep Ellen Tauscher (D-CA), chair of the House Armed Services Strategic Forces Subcommittee, said it best: