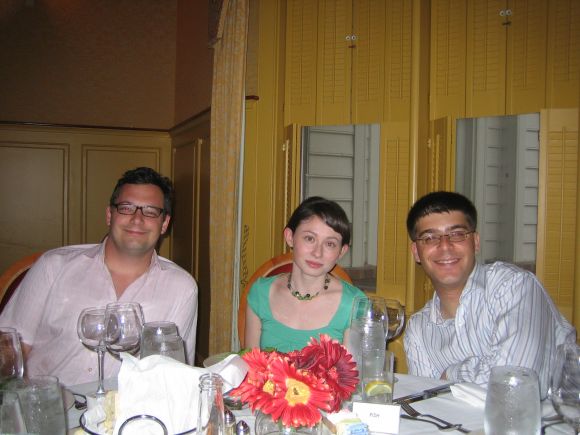 I'm back from Wye now. The (fairly awful) photo is of Jeffrey, Wonk alum Jane Vaynman and me. It turns out that Jane and I have the same all-time favourite Foreign Affairs article: the one on monkey sex.
In my jet-lagged state I have been trying to catch up on North Korea news. According to Glenn Kessler in the the Post the declaration contained no surprises. Apparently it states the DPRK has extracted 37 kg of plutonium and contains "a brief reference to the U.S.-North Korean side deal" under which North Korea privately acknowledged US concerns about the alleged enrichment programme and proliferation to Syria just before submitting the declaration.
However, Monday's Global Security Newswire has the following to say:
Pyongyang reportedly acknowledged in the declaration that it had collected roughly 30 kilograms of weapon-usable plutonium and used 2 kilograms in its October 2006 nuclear test blast, Kyodo News reported.

One nuclear weapon generally contains 4 to 8 kilograms of the material.

North Korea's total plutonium holdings, including unextracted material in used fuel rods and material that remains in equipment at Yongbyon, is believed to total 44 kilograms, the source said (Kyodo News I, June 28).
Irritatingly the Kyodo story does not seem to be online (Ed. I put the full text in the comments) and I'm assuming Kessler has it right (not least because his article is more recent). However, if the Kyodo story is correct, it is pretty sensational. Not only would "roughly 30 kg" of extracted Pu be almost (but not quite) implausibly little, but a weapon containing 2 kg of the stuff would be very ambitious for a first shot.
I wonder if the declaration will be made public…
Anyone want to leak it to the Wonk?