I'm now back from the US, where I had two week's holiday followed by a conference at the Naval Postgraduate School in Monterey. Since the conference was under the Chatham House Rule, there's not much I can say except that it was excellent; the following photo of Monterey's wildlife will have to substitute for a fuller report.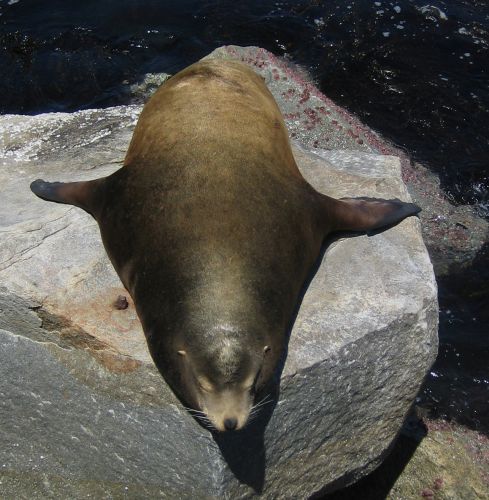 Anyway, the big nuclear news of the weekend has been the revelation (from David Albright via the WaPo and others) that in 2006 the design for an "advanced nuclear weapon" was discovered on a computer belonging to AQ Khan associate, Urs Tinner.
The article says that "U.N. officials cannot rule out the possibility that the blueprints were shared with others before their discovery."
However, on BBC Radio this morning IISS's Mark Fitzpatrick stated that there is evidence that "the Swiss connection… had made copies of at least some designs and sent them to one of Khan's associates [Tahir] who at that time was in Malaysia…" Intriguingly, Fitzpatrick implies that more than one design was found on the computer.
I want to raise three observations or questions about this story.
The first thing to point out is that this story isn't quite as new as the media is making out. An AP article, highlighted by Jeffrey almost three weeks ago mentions that "detailed construction plans for nuclear weapons" were found on Tinner's computer (although it says no more about them).
Second, the physicist in me wonders what type of weapon was involved. A simple fission weapon or a boosted fission weapon? Or both? (Pakistan, whence the designs originated, is believed to possess both so any answer seems plausible.)
This issue is important because any of the states which might have received the designs are likely to find it much easier to build a simple fission weapon than a boosted fission one (not least because to build a boosted fission weapon they would have to develop external initiator technology).
However, most importantly, I want to question how much difference this actually makes at a practical level. On the Radio this morning, Gordon Correra (who I respect enormously) said this:
But that [the design that Libya bought] was an old Chinese design from the 1960s and so it wasn't much use. But, what we're learning now is that, from the investigations into those European businessmen who formed Khan's network, that on a computer of a family in Switzerland were designs for a much more advanced nuclear weapon…

And that's really worrying because it's the design for a small powerful nuclear weapon that can be fitted onto a missile. And that really is the holy grail for a county trying to develop a usable bomb.
However, I'm not sure I agree with him. I think the "holy grail" for a proliferator is getting the Bomb in the first place.
North Korea's bomb (probably technologically no better than a 1945 US design) is already an effective deterrent, even if it can't be delivered by missile. The threat of delivery by an airplane or container ship works just fine for deterrence purposes.
Similarly, the prospect of military action against Iran will evaporate if it ever gets the Bomb, regardless of whether or not Mark 1 can be fitted onto a missile.
A warhead deliverable by missile might increase North Korea's or Iran's ability to execute a first strike, but I think that is very unlikely to start with.
Don't misunderstand me; I don't want to underplay the seriousness of Khan selling weapon designs. But, from a proliferators perspective, mounting a warhead on a missile is surely only a modest strategic advantage compared to obtaining the Bomb in the first place.