I'm currently doing some reading on nuclear power in the Middle East. As is my (and many Wonk readers) wont I like trying to find the places I read about on Google Earth.
Finding Inshas, Egypt's nuclear research centre, has been something of a challenge. Indeed, FAS has had similar problems:
The precise location of this facility is uncertain, which is rather peculiar, given that it is a publicly acknowledged and well attested installation.… The NRC Nuclear Fuel Laboratory is located at 30°15'N 31°25'E, according to the IAEA. However, it is evident from TerraServer imagery that these coordinates are incorrect, since there is only empty desert at this location.
With the aid of Google Earth the point identified by the IAEA can be seen to be just north east of the large complex shown in the picture below.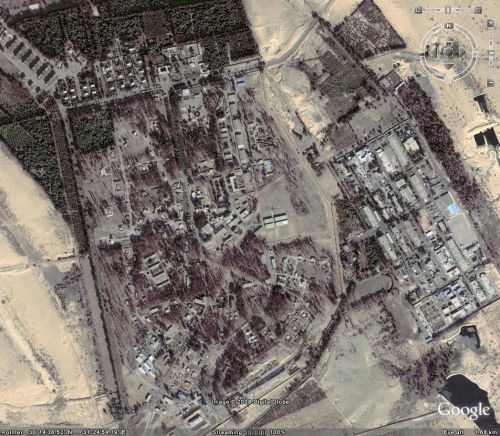 Could this be Inshas? Maybe the IAEA just rounded its figures when reporting the location of Inshas? It's clearly some kind of industrial complex and the tall building (or should that be box, Jeffrey?) at "30°14'35.97"N, 31°24'49.65"E"::http://www.armscontrolwonk.com/file_download/112/Inshas.kmz
is plausibly a research reactor. But, if it is Inshas, it's odd that there's not a single comment from the Google Earth community about this site. Moreover, the site is only 26 km from the centre of Cairo (not 40 km or 60 km as variously reported).
Your thoughts, as always, are welcome…
In other Google Earth news, the docks at Faslane (the UK base where the Vanguard-class boomers are based) are no longer blurred out. I'm not sure when it happened (it's probably been a year or so since I last looked) but I am pleasantly surprised. Given the UK is a party to the Open Skies Treaty, it was a pretty futile move in the first place.