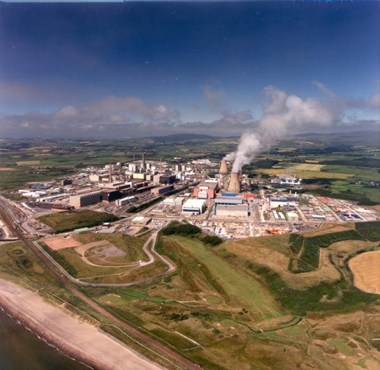 This is a question that was discussed at a couple of meetings I attended last year. In the short-term, the objective is of course to get plutonium out of the reactor and into wet storage ASAP. Presumably, however, the US (and South Korea and Japan and probably China and Russia) would at some point like to remove the material from the DPRK altogether. And, if North Korea is serious about the Six Party process, I imagine it would be happy to sell. The problem is this: What should be done with the spent fuel if North Korea does sell?
Mangnox fuel, that classic of British design, was never designed to be stored long term; it was designed to be reprocessed. It corrodes in wet storage and while getting the water chemistry right slows corrosion down it won't stop it entirely. So that leaves two options: dry storage or reprocessing.
Currently, just one Magnox reactor, Wylfa, uses dry storage. But, again, I don't know is whether this is a long-term solution. The dry store at Wylfa is only an interim store before reprocessing so I'm not sure about the viability of storing NORK spent fuel in that mode for the indefinite future.
If dry-storage isn't an option, that leaves reprocessing. The problem here is that no plant apart from Sellafield (in the UK) has a head-end designed for Magnox fuel—and Sellafield is currently in a prolonged shut-down following an accident in 2005. Even if Sellafield does come back on-line (and if it doesn't we in the UK are going to have a massive problem about to do with all of the spent fuel that's currently accumulating here) there might be substantial domestic opposition to importing North Korean spent fuel (I'd be very interested to find out what the relevant British civil society groups think about this one). Anyway, if the UK isn't an option (for whatever reason) I can't imagine that Japan, Russia or France is going to build a whole new head-end for just one reactor load of fuel. So, if it turns out that neither dry storage nor reprocessing are viable ways of dealing with North Korean spent fuel, it looks like we might have a real problem.
Any bright ideas from wonk readers?