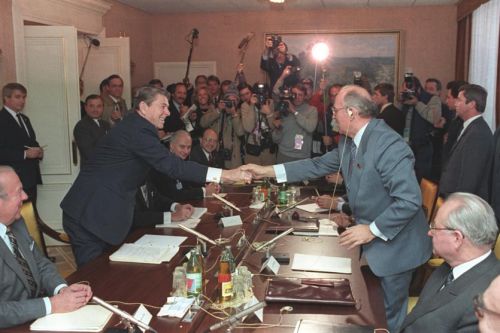 I'm tickled pink that my brief comment about the purpose of arms control in a recent post has already provoked debate. I think some of you are expecting me to argue to that, now the Cold War has ended, arms control serves no useful purpose. Well, that's not what I'm going to say. I think it would be very foolhardy to scrap those agreements we have at the moment for an as-yet-undetermined alterative. My argument is that, in today's world, arms control could serve a number of different, useful purposes—but it can't serve them all at once. Consequently, there is a need for the arms control community and governments—particularly governments—to try and come to a unified sense of what they want arms control to do.
Forgive me if I start with a quick and somewhat simplified history. During the Cold War arms control served two primary purposes (and here I restrict myself to nuclear arms control). First, it was driven by finance ministers seeking to reduce the costs of the arms race. Second, and most importantly, it was about ensuring—in a very technical sense—strategic stability. That is making sure that both the US or Soviet Union were deterred from a pre-emptive nuclear strike by the certainty of a devastating counter strike. The Anti-Ballistic Missile Treaty (RIP), for instance, was premised on the assumption that the ability to defend against a counter strike might embolden an aggressor to strike first. Not everyone agreed with arms control being used in this 'limited' way. Parts of the disarmament lobby in particular felt very uncomfortable that mutual assured destruction was essentially being enshrined with treaties. But arms controllers generally had a pretty clear sense of what they were trying to do.
It seems to me that there is no longer such a clear sense of what arms control is for. I can think of various possibilities:
Maintaining strategic stability
Preventing the re-emergence of a new nuclear arms race
Saving money
Building trust between states in respect of their intentions for their nuclear weapons
Building trust between states more generally
Promoting disarmament by reducing weapon numbers significantly
Each of these is a laudable and important goal—I'm just not sure arms control can do all of them at once.
There are, for instance, tensions between the first goal (maintaining stability) and the last (promoting disarmament). If you really believe the primary purpose of arms control is to maintain stability, you almost certainly believe that cutting nuclear weapon numbers rapidly is dangerous. It increases the probability (even absent cheating) that at some given moment one side might have many more nuclear weapons than the other—exactly the kind of imbalance that is dangerous according to Cold War arms control theories. You probably also believe bilateral treaties should remain the focus of arms control. On the other hand, if you believe the primary purpose of arms control is disarmament then you presumably want to see large, fast cuts, probably by all states with nuclear weapons.
Another example illustrating this same tension concerns verification arrangements. If you believe stability is where it's at then you probably want complex warhead counting rules and intrusive verification arrangements to boot. START, for instance, permits US and Russian inspectors to count the number of shrouded re-entry vehicles mounted on ballistic missiles. In contrast, if you believe disarmament should be the driver of arms control then you believe that the purpose of arms control is to convince the rest of the world of the nuclear weapon states' good intentions. Verification is still important but now it would best be conducted by international inspectors. However, in the short to medium term at least, there seems little prospect of the US and Russia granting international inspectors the kind of intrusive access rights they do for each other's nationals. Hence, it seems likely that, for the time being, internationally-verified arms control agreements will have to focus on missile and launchers not warheads—something that would seem like a retrograde step to a 'classical' Cold War arms controller.
I don't want to overstate my argument here. I've obviously chosen the two objectives from the list that are most in tension. However, I do believe that arms control can't do everything at once. It's important to discuss whether stability and disarmament are partly contradictory aims and, if so, which is more important. Given there is a good chance we will see an arms control revival in the next few years, arms controllers need a clear picture of what their priorities should be and which of their objectives might be in tension before they start drafting the next generation of treaties. Only that way can those treaties be as effective as they possibly can.