Wolfgang Panofsky, director emeritus at the Stanford Linear Accelerator Center, died of a heart attack on Monday evening. He was 88.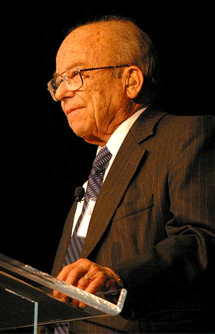 There is much to be said about Dr. Panofsky's contributions, from his pioneering research at Los Alamos, Stanford, and Berkeley, as well as his contributions to the policy debate on proliferation and nuclear security. I'm sure many of ACW readers may have personal recollections of his life or his work, which I invite you to share.
A few years ago I watched Dr. Panofsky lead a panel in a National Academies Symposium, marking the 60th Anniversary of Trinity. NAS hosted an incredible group of speakers, all of whom were there at Trinity. Dr. Panofsky's closing comments still stand out in my mind:
Throughout human history proliferation of any new technology for either peace or war – be it fire, gun powder, steel fabrication, electronics, or whatever – has never been stopped, but in response to Trinity we must stop the proliferation of nuclear weapons. But how can we accomplish this? Treaties and other international agreements have been very successful in slowing proliferation, but in the long run each sovereign state on this globe must be persuaded that its National Security is better served without possessing nuclear weapons than with them. It also requires each state now possessing nuclear weapons to examine critically whether their stockpiles of these weapons and of the critical materials to make them are truly consistent with their National Security – not to meet short range contingencies but to serve the long range true security of the nation.

-W.K.H. Panofsky, prepared remarks for Academies Symposium 60th Anniversary of Trinity, July 15, 2005.
Panofsky's last published article, "Nuclear Insecurity," appears in the September/October issue of Foreign Affairs. Additionally, his autobiography Panofsky on Physics, Politics, and Peace: Pief Remembers will be out in mid October.