Earlier this week, AP reported that Russia tested a conventional bomb, which Russian television described as the "world's most powerful non-nuclear air-delivered bomb."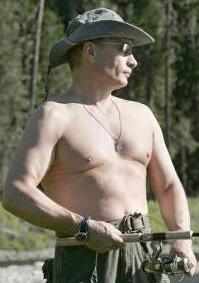 The TV station highlighted the importance of this weapon. In other words, our bomb is bigger than your bomb.
Channel One television said the new weapon, nicknamed the "dad of all bombs" is four times more powerful than the U.S. "mother of all bombs."

[snip]

The U.S. Massive Ordnance Air Blast, nicknamed the Mother Of All Bombs, is a large-yield satellite-guided, air-delivered bomb described as the most powerful non-nuclear weapon in history.

Channel One said that while the Russian bomb contains 7.8 tons of high explosives compared to more than 8 tons of explosives in the U.S. bomb, it's four times more powerful because it uses a new, highly efficient type of explosives that the report didn't identify.
So, why does one need a bomb so big? A bomb that Col.-Gen. Alexander Rukshin, a deputy chief of the Russian military's General Staff said "is comparable to a nuclear weapon in its efficiency and capability."
To get the terrorists of course.
Rukshin said the new bomb would allow the military to "protect the nation's security and confront international terrorism in any situation and any region."
What is this all about? I am not sure yet. But "showing off" seems to be a topic in Russia news lately. Flexing some muscles, first literally, and now with really big fireballs.