When I hear "Dimona," I think super-secret Israeli nuke program. I mean, doesn't everyone? Little did I know that other grand secrets can be found in this little part of the Israeli desert. Who cares about the nukes when you suddenly discover that Dimona is in fact also home of the nicest bathroom in Israel.
But let me start at the beginning.
I was traveling in Israel last week. I'll post some fun pictures of the Lebanon border (big fence) the Syria border (big mountains) and the security wall (again, big fence) later. Of course, I couldn't help but notice signs we passed with arrows towards Dimona. Signs for the town of course, but I didn't sweat over the Deadly Arsenals map for nothing. The reactor is close. (Here all nice and blurry on google earth).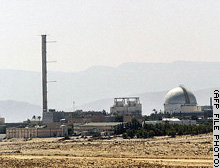 As luck would have it, we did drive right through the town of Dimona, and along the road where, for a good long stretch, you can see the reactor dome sort of gleaming in the distance. Driving from the town of Dimona towards the Dead Sea, a large sparse area with low rolling hills opens up on the right. A serious looking security fence runs along the side of the road.
The Israeli guide on the trip told a nice story about the super-secret Israeli Krembo chocolate factory over to the right. So secret is the Krembo recipe that Israel has shot down a plane which wandered over the factory, and the man who revealed chocolate secrets to the world was put in jail for a long long time. Very cute. I was amused.
Now the good stuff. In the town of Dimona itself, there is a shopping mall. Rolling into the parking lot, I started hearing comments about the bathrooms. The mall looked decent, average even. But then I turned a corner and was witness to the super-secret Israeli bathroom program, no fences. No, it's not a brochure. I sneaked a super secret photo.