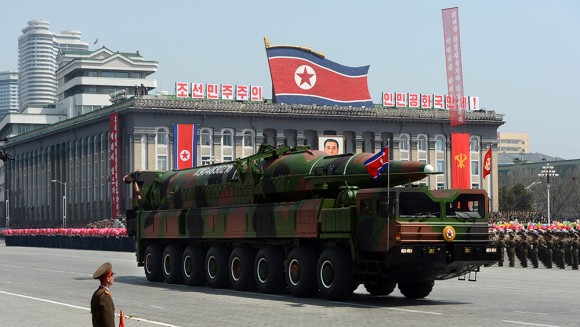 What this week's Worldwide Threat Assessment of the US Intelligence Community said about North Korea was stark but hopefully not too surprising: its nuclear and missile programs "pose a serious threat to the United States and to the security environment in East Asia." The North Koreans are forging ahead, restarting the graphite-moderated reactor at Yongbyon, expanding the enrichment facility there, and taking steps toward fielding the KN-08 road-mobile ICBM.
(See p. 6 of the prepared text.)
No limitations on North Korea's nuclear program are currently in place and no negotiations are underway toward this end — in noticeable contrast to the situation in Iran. Earlier this month, I took a stab at explaining why there has been no movement in this direction in over a year's time, since before Pyongyang's February 2013 nuclear test.
The following article was originally published in RUSI Newsbrief (Vol. 34, No. 1, January 2014), at http://www.rusi.org/publications/newsbrief/. It appears here with the gracious permission of the editors at RUSI Newsbrief.
Nuclear Diplomacy with North Korea: Over Before it Began?
Joshua Pollack
Commercial space images published over the course of 2013 have revealed considerable activity at North Korea's nuclear complex at Yongbyon. A new, 'experimental' light-water reactor project appears to be complete externally, and the previously disabled gas-cooled, graphite moderated reactor – the source of North Korea's plutonium – appears to have recommenced operations in late August or early September. The roof of the new gas-centrifuge uranium-enrichment facility shown to researchers from Stanford University's Center for International Security and Cooperation in November 2010 has doubled in area.
These changes suggest a growing distance between North Korea's formal commitment to denuclearisation under the discontinued Six-Party Talks (with South Korea, Japan, China, Russia and the US) and the entrenched reality of its nuclear programmes. They correspond to Pyongyang's declaration in April 2013 that it would 'adjust', 'alter the uses' of, and 'restart' the facilities at Yongbyon. According to the North Korean authorities, these moves support a 'new strategic line' of simultaneously developing both nuclear weapons and the North Korean economy.
After decades of stagnation, North Korea's ability to advance its economy significantly seems doubtful, regardless of whether this occurs in conjunction with nuclear-weapons development. But a different sort of parallel process – simultaneously technical and diplomatic – is at work in North Korea's nuclear policy. Both aspects respond to the Obama administration's policy of 'strategic patience', which relies on enforcing and strengthening sanctions in response to successive tests of long-range rockets and nuclear devices.
On two tracks to nowhere fast
On the technical track, the expansion of North Korea's nuclear military potential at Yongbyon seems calculated to demonstrate the impotence of sanctions, while signalling heightened dangers in the form of a growing supply of fissile material. If the restoration of the small gas-graphite reactor symbolises the persistent diplomatic stalemate, the enlargement of the enrichment facility indicates a deeper problem. North Korea's efforts to place its gas-centrifuge programme on an indigenous footing gravely complicate any strategy for rolling back its nuclear capabilities (key components are previously believed to have been imported). Unlike reactors, the operation of gas centrifuges produces little, if any, technical 'signature' that makes such activity readily identifiable. If the key components and materials for the centrifuge programme are produced domestically, sanctions will lack bite, and the international community cannot be certain of the number, size or whereabouts of enrichment facilities in the country beyond Yongbyon.
Verifying the full extent of the enrichment programme was the same iceberg upon which the Six-Party Talks foundered in 2008. The visible expansion of the programme now hints at what might lie below the waterline. In the months to come, further glimpses might be afforded, perhaps through the type of unofficial visit to Yongbyon previously used by North Korea to advertise its capabilities.
On the diplomatic track, North Korea strives to keep China – its main trading partner and sometime protector – from aligning its policies too closely with those of the US. Over the longer term, Pyongyang seeks to turn the agenda toward the removal of economic sanctions and the conclusion of a Korean War peace treaty, presumably one that ends the US military presence in South Korea.
Bottoming out
Tactical manoeuvres dominate for now, with the US in particular seeking to minimise the risks inherent to any further engagement following the abrupt collapse of a limited understanding between the US and North Korea announced on 29 February 2012. This abortive 'Leap Day Deal' was to have halted activity at the enrichment facility at Yongbyon, with measures in place for the verification of both the enrichment freeze and the continued disablement of the gas-graphite reactor and the associated reprocessing facility. It was also to have imposed moratoria on nuclear tests and long-range missile tests. In return, the US was to have provided food aid as a humanitarian gesture, and – at least in the view of the North Koreans – the arrangement was to have led to a resumption of the Six-Party Talks, with priority given to its own preferred issues, including the removal of sanctions.
The sticking point in this deal proved to be rocketry. The US government insisted that the missile moratorium encompass the activities of North Korea's space programme, seeing it as a cover for the development of intercontinental ballistic missiles. The North Koreans differed, and quickly announced an upcoming satellite launch. The unravelling of the progress made prior to this disagreement left Washington dissatisfied and apparently determined not to repeat the experience, while Pyongyang, for its part, has expressed openness to another attempt at talks, either for its own reasons or to satisfy demands from Beijing.
The low tide of diplomatic engagement between the two sides came at the end of August 2012, when the North Korean foreign ministry announced a new policy on nuclear development. A lengthy memorandum declared that unless the US chose to make a 'bold and fundamental change in its cold war mindset' and to abandon its 'hostile policy', North Korea would expand its nuclear arsenal 'beyond the U.S. imagination'. After another satellite launch in December 2012, prompting condemnation by the UN Security Council in January 2013, North Korea went further, explicitly disavowing the September 2005 Joint Statement, in which it had unequivocally agreed to 'abandon all nuclear weapons and existing nuclear programs' – the core achievement of the Six-Party Talks. North Korea's third nuclear test followed in February.
After the usual condemnations by the international community, Beijing pressed Pyongyang to withdraw from its maximalist stance. According to Xinhua, the official Chinese news agency, North Korean envoy Choe Ryong-hae told Chinese Politburo Standing Committee member Liu Yunshan in May 2013 that the North Koreans were 'willing to accept advice from the Chinese side and carry out dialogue with relevant parties'. The following month, the North Koreans issued a statement renewing their public commitment to denuclearisation and stating their willingness to discuss the idea of 'a world without nuclear weapons' with the US, as well as their own issues of concern. During meetings in Beijing to mark the eighth anniversary of the signing of the September 2005 Joint Statement, North Korean Vice Foreign Minister Kim Kye-gwan reportedly expressed support for resuming the Six-Party Talks.
Meanwhile, the position of US officials has stiffened, especially concerning the production of fissile material. The US continues to insist on a package of nuclear freezes and test moratoria before returning to negotiations. Significantly, however, Washington is no longer willing to entertain a verified freeze on nuclear activities at Yongbyon alone. Now, if the freeze does not cover all such facilities, anywhere in North Korea, no proposal for renewed denuclearisation talks will be judged 'credible and authentic'. The Obama administration does not wish to be drawn into high-profile talks that simply fill time before the next round of North Korean rocket and nuclear tests. Should Pyongyang voluntarily freeze uranium enrichment beyond Yongbyon, this gesture would be understood as a signal of seriousness.
In the deep freeze
Now, however, it is substantive diplomacy – and not enrichment – that is frozen. Shuttle diplomacy conducted in the autumn of 2013 by Wu Dawei, a Chinese foreign ministry official, brought the sides no closer. Instead, Wu's visits to Pyongyang and Washington mainly yielded barbs in the official North Korean media, including the official, outward-facing news agency, KCNA, about President Obama's vision of 'a world without nuclear weapons'. In June, Pyongyang had identified this 'proposal' as a valid basis for negotiations, but soon began to dismiss it as hypocritical rhetoric.
Following the Beijing gathering in September 2013, where no official American or South Korean participants were present, the North Korean foreign ministry arranged meetings with former US officials responsible for policy on North Korea during the Clinton and Obama administrations, Stephen Bosworth and Robert Gallucci, to convey their desire to enter talks without preconditions. As if in reply, current senior US officials, including National Security Advisor Susan Rice, have expressed the administration's position with greater bluntness. In remarks made at Georgetown University in November, Rice declared that, 'Pyongyang's attempts to engage in dialogue while keeping critical elements of its weapons programs running are unacceptable'. Speaking to the press in Beijing the following day, the State Department's point man on the North Korean nuclear issue, Glyn Davies, underscored Rice's point: 'if we are to get back to talks, North Korea is going to have to cease its nuclear activities'. North Korea responded predictably, insisting that Washington's 'unreasonable' and 'absurd' preconditions prevented a resurrection of the Six-Party Talks. It added that North Korea 'will be compelled to steadily bolster deterrence' in the face of continuing US hostility.
The Obama administration's stance reflects a belief that activity at the Yongbyon complex primarily provides North Korea with something valuable to trade away for sanctions relief, a peace treaty, and other desiderata. It is no longer the beating heart of the nuclear-weapons programme. Thus Washington's insistence that North Korea foreclose the option of covert uranium enrichment for the duration of negotiations is entirely understandable. It could be compared, in spirit, to the Joint Plan of Action agreed by the EU/E3+3 and Iran in November: a confidence-building measure that creates space for in-depth negotiations by removing the implicit threat to produce weapons-grade fissile material.
Measured by results, Washington's principled stand looks less rewarding, however. North Korea, unlike Iran, already considers itself a nuclear-armed state, and is very unlikely to comply with demands for a blanket freeze. Instead, North Korea's fissile-material stockpile appears set to expand, allowing the production of more nuclear devices if desired. Qualitative improvements to weapons-related technology can also be expected; commercial satellite images published online show continuing work at North Korea's launch sites and its nuclear test facility. In October, a North Korean diplomat at the UN reiterated plans for additional satellite launches. In late December, a high-ranking Korean Workers' Party official, Kim Yong-nam, remarked that Kim Jong-un, the country's third-generation leader, would 'display the dignity' of the country in space – an act North Korea typically follows, a few months later, with a nuclear test. The ultimate goal of denuclearisation therefore appears to be growing more distant.
New North Korean nuclear exports also cannot be ruled out. In the past, North Korea has exported nuclear technology to Syria and Libya and exchanged know-how with Pakistan. Assuming customers can be found, future export activity might involve enrichment technology or even excess fissile material. While the North Korean nuclear programme continues unchecked by diplomacy, the pursuit of non-proliferation faces mounting risks.
 * * *
Postscript
Earlier this week, State Department Special Representative for North Korea Policy Glyn Davies visited the region again. The bottom line, as he explained to the press in Beijing, remains the same, with a hint at "further pressure" on North Korea to bring them around:
[The United States and China] share an interest in getting back to Six-Party Talks as soon as possible. Here, the principal obstacle, and you all know this, has been the lack of not just interest, but meaningful steps on the part of North Korea to demonstrate that it understands that it has to live up to its obligations and its commitments, principally those it made back in September 2005, that's encapsulated in the joint statement. And it's, I mean, I've been at this job now over two years, and I've been struck with the…the lack of interest on the part of North Korea in meaningfully addressing this denuclearization issue, which is the principal issue that underpins the Six Party talks process. We haven't seen any signs that they are willing to move on that, willing to take steps to address the concerns that we've had. What they've said are things like that they have…that they're interested in coming back to talk without preconditions, which means that they'd like to talk about everything except their obligations to denuclearize. So this is of great concern to us. So of course, here in Beijing, the bulk of the time I spent in meetings with Chinese officials was about how best to move the process forward, get back to Six Party, convince North Korea, if necessary, through further pressure, that it needs to begin taking steps now and get back on to that, into that process of denuclearization.
The President's 2014 State of the Union address, delivered the same day, made no mention of any prospects for nuclear diplomacy with North Korea.