[Updates have been transposed to the end of the post. -Ed.]
Tal Inbar points out these photos from today's military parade in Pyongyang.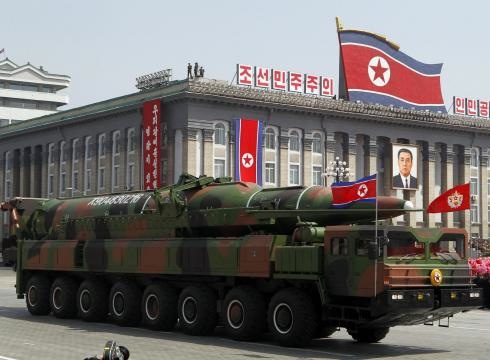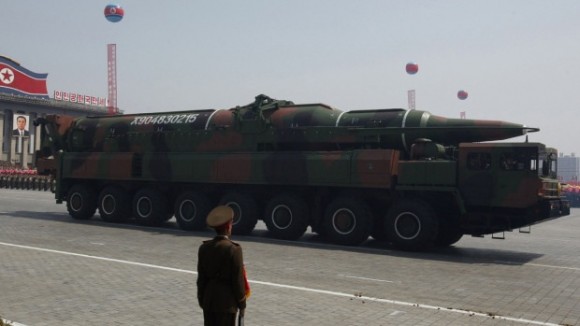 More details after the jump.
Those are two three-stage missiles carried on large, eight-axle vehicles. YTN describes them as being about 18 m long and about 2 m in diameter. [Note: based on an examination of the photographs, the 2 m diameter figure does not appear to be accurate if the missile is 18 m long.]  That's much smaller than the TD-2 — not bigger, as the Chosun Ilbo had claimed. (Really, who could imagine a mobile missile almost half the length of a football field?)
An earlier YTN broadcast, aired before the parade, called the new missile by the name KN-08. That report is summarized in English by AFP here.
Further reading: My article of last week at 38North.org on the unveiling of North Korea's ICBM. Here at ACW, a discussion of the implications for missile defense — or, depending on your point of view, lack thereof.
Update | April 15, 10:19 am. An alert reader points out this CCTV broadcast. Going by the serial numbers, there were more than two ICBMs on parade. I see five: 904830216, 901010212, 904830218, 904830215, and 901010418. [See also below. -Ed.]
Update | April 15, 11:10 pm. Here are a couple more views of the new missile.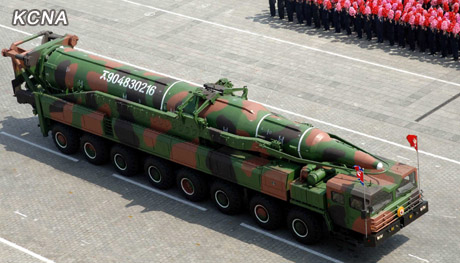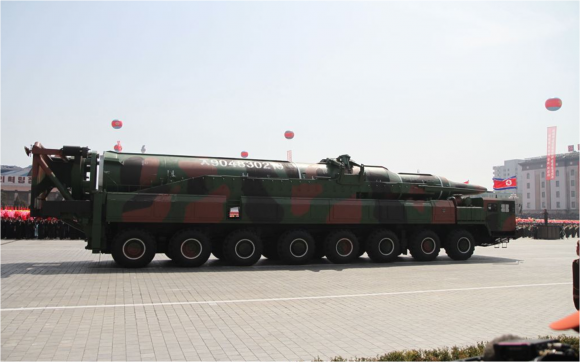 Update | April 17, 2012, 10:50 pm. Thanks to alert reader "AP," who found a video of the entire parade as broadcast on Chinese television, we can see that six of the new missiles were displayed at the end of the parade. All appear in the shot simultaneously at 68:39.
Update | April 17, 2012, 11:59 pm. There's been a fair amount of discussion in the comments of the source of the TEL. It's pretty clearly a local hybrid built onto an extra-heavy chassis of the sort produced exclusively by the Hubei Sanjiang Space Wanshan Special Vehicle Co., Ltd., part of the China Sanjiang Space group, and a subsidiary of  the China Aerospace Science and Industry Corporation (CASIC), a state-owned enterprise. The most likely candidate appears to be Wanshan's WS51200 chassis, which you can see in this nice illustration: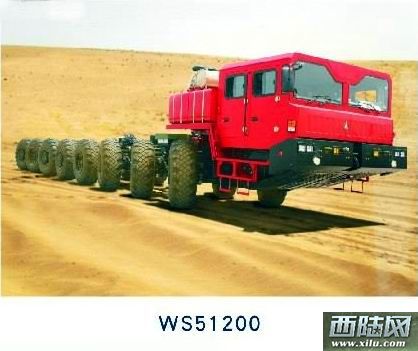 The CASIC website announced a sale worth 30 million yuan to an unnamed foreign customer in Oct. 2010. In August 2011, the Wanshan website announced a delivery of 122-ton WS51200s to an unnamed customer, dated May 17. "During the inspection of this delivery, the consumer was very satisfied with the vehicle and indicated the possible of the next cooperation."
Thanks to all the commenters and lurkers who have unraveled this and other threads in this post.