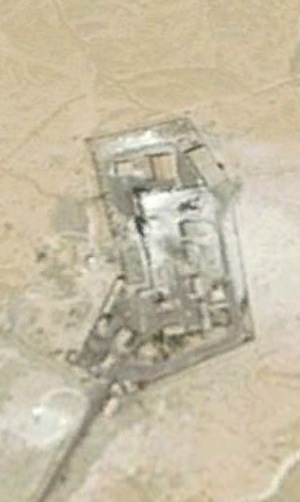 One of the more important questions about Syria's nuclear program has got to be, Just where is it, anyway? Those of us who were initially skeptical of reports that the Dayr al-Zawr facility had been a reactor could point to the almost complete absence of ancillary buildings at the site. Where would fresh fuel be produced and stored? Where would spent fuel go? What about reprocessing facilities? And waste sites? And so on.  So it caught many eyes when GOV/2008/60, the IAEA's first safeguards report on Syria, mentioned "three other locations alleged by some Member States to be of relevance" where "landscaping activities and the removal of large containers took place shortly after the Agency's request for access."
On December 1, David Albright and Paul Brannan of ISIS published a short report mentioning locations near Masyaf and Iskandariya, both in the vicinity of Hama, and Marj as-Sultan, close to Damascus. The authors also mention a fourth site that has attracted the IAEA's interest. They don't name it, but we can make an educated guess: the Tibnah (or Tibni) salt mine at 35° 33′ 07″N, 39° 48′ 38″E, about 17 km south of the former reactor site. (The mine appears in the overhead view to the right.)
As far as I'm aware, Andreas Persbo made the first public mention of Tibnah in connection with the reactor back in October 2008. Andreas observed that the Syrian Atomic Energy Commission had undertaken a "preliminary report" on whether the mine could be used to store radioactive waste, which would seem to make it a legitimate object of interest for nuclear safeguards. But it has yet to appear in any of the IAEA's several reports on Syria.
Back to the Salt Mine
Lately, though, Tibnah has begun to creep back into view. In an October 2010 article in Jane's Intelligence Review, former IAEA inspector Robert Kelley added a handful of pieces to the puzzle. The mine, he reports, is operated by the General Company for Phosphate and Mines (GECOPHAM), the same state-owned enterprise that operates the Homs Phosphate Fertilizer Plant, which removes uranium impurities from phosphates… thereby also producing yellowcake. He also cites the study mentioned previously by Persbo.
The document, titled, "Preliminary Report on General Setting of Tibni-Salt Mine for an Interim and Final Storage of Radioactive Waste in Syria," happens to be in the IAEA's collection. The abstract can be found online. The study was undertaken from May 1997 to May 1998. (The Principal Investigator was named as Mohssen Alimoussa of the Syrian Atomic Energy Agency; someone with the same name represented Syria's oil ministry in this 2004 international meeting on environmental statistics.) The purpose envisioned for the site was described as "international radioactive waste disposal."
As Kelley observes, the Tibnah study coincides with the initiation of Syrian-North Korean nuclear cooperation, which the U.S. intelligence community dates to 1997. Still more striking is the sharp drop in salt production in 2007, as seen in data available through 2008 from the U.S. Geological Survey. But at some time between 2004 and 2008, satellite photos show an expansion of activities at the site, not a contraction. Kelley suggests that the part of the mine may have been "pressed into service" to store debris from the reactor, thus becoming unavailable for salt production.
Even if not named by ISIS, Tibnah has become higher-profile lately. Most recently, it's garnered a mention in the mass media (see the December 2 article about Syria and the IAEA by Paul-Anton Krueger in the Sueddeutsche Zeitung). Given the waste-disposal study submitted to the IAEA, not to mention the lack of a plausible military connection to an active salt mine — the excuse used by the Syrians to deny the IAEA access to the other three sites — there ought to be growing pressure on Damascus to grant access.
Update, Dec. 13, 7:26 pm. Based on a number of hints and suggestions received offline, it's apparent that Tibnah is not the fourth site of interest to the IAEA.