In all the hubbub over the Musudan IRBM (to say nothing of the artful illusion of hair) it was all too easy to miss that this weekend's big parade in Pyongyang also featured the first appearance of at least one other missile. It's a variant of the Nodong medium-range ballistic missile (MRBM) with an Iranian-style triconic nosecone — to all appearances, a separating reentry vehicle.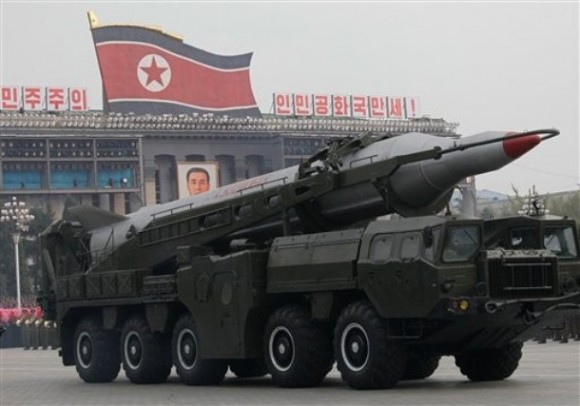 For comparison, here's an Iranian missile from somewhere in the same family tree:
The question naturally arises: how long have the North Koreans had weapons of this type? The Musudan first appeared in the South Korean and American news media in September 2003, so it's certainly possible for Pyongyang to sit on these developments for years, if they wish. Notably, North Korean theater missiles, Nodong included, have been described in open-source reports as having improved accuracy going back at least to the missile tests of July 2006. That might be a function of the new, separating RV, at least in part.
If so, this technology might well be a joint development of the two countries' missile programs.
The NHK TV report mentioned by the Associated Press described "three never-before-shown types of missiles and launching devices." We've spotted two of them now. Does anyone out there have any bright ideas about the third?
Update. A block of at least eight of the new missiles can be seen at 0:28 in this video (thanks to Tal Inbar):
http://www.youtube.com/watch?v=FAuqz_Cp8vw
Late Update. This video segment appears to show all of the ballistic missiles exhibited at the parade.
http://www.youtube.com/watch?v=i8zhDsgoshk