By now, New START aficionados (if that's the right word) will know all the talking points about missile defenses. Treaty critics in search of unacceptable restrictions on interceptors have homed in on Art. V, Paragraph 3, which prohibits either the conversion of ICBM silos or submarine missile tubes into interceptor launchers, or conversion the other way around. Administration officials and military leaders have responded that there were never plans to conduct such conversions, and it's more cost-effective and technically feasible just to dig new interceptor silos if necessary. Fair enough. But why is the conversion ban in the Treaty text? What's the point of having it there?
Back in April, Jeffrey pointed out one good reason: putting new interceptors into dual-purpose silos probably would have brought the interceptors into the scope of the New START inspection regime. And earlier this week, Ivan Oelrich similarly observed that, absent the two-way conversion ban, enforcing the Treaty's limits on ICBM or SLBM launchers (i.e., silos or tubes) would have become more complicated. It probably would require more inspections to verify that interceptor silos were not, in fact, treaty-limited ICBM silos.
The apparent point, then, is to keep interceptors out of the Treaty's numerical limits and inspections regime. That seems like a straightforward and perfectly adequate explanation for the conversion ban. So the additional explanation from STRATCOM commander Gen. Kevin Chilton, given at the June 16 SFRC hearing, is that much more interesting.
The World's Biggest Game of Russian Roulette
First off, Chilton endorsed the view — voiced by Sen. Dick Lugar — that dual-purpose silos would have to count against the ICBM or SLBM launcher limit.  He considered this disadvantageous; why trade SLBMs for interceptors if you can have both instead? He also made the familiar point about cost and technical disincentives for conversion. But then the STRATCOM commander offered an altogether different explanation about why the two-way conversion ban is an all-around good idea:
From an ICBM field perspective… there would be some issues that would be raised if you were to launch a missile defense asset from an ICBM field, with regard to the opposite side seeing a missile come off and wondering, well, was that a missile defense — a defensive missile — or is that an offensive missile?
In another context, this issue has been called "the ambiguity problem." If the Russians don't know whether the missiles flying at them are defensive interceptors or nuclear-tipped, they might respond with a nuclear attack. As discussed in this space last year,  GMD interceptor missiles launched from North America against inbound North Korean ICBMs would fly out in the direction of Russia. In some scenarios, the intercept attempts would actually occur over Russian skies.
A Picture is Worth 1,000 Missiles
In case you missed the earlier discussion, here are the illustrations again. Observe carefully. The two red tracks are North Korean ICBMs shown bracketing potential North American targets. (Hawaii is a fundamentally different scenario.) The blue tracks are GMD interceptors flying out from Ft. Greely, Alaska against the attacking missiles. The black fans are early warning radars, both America's and Russia's.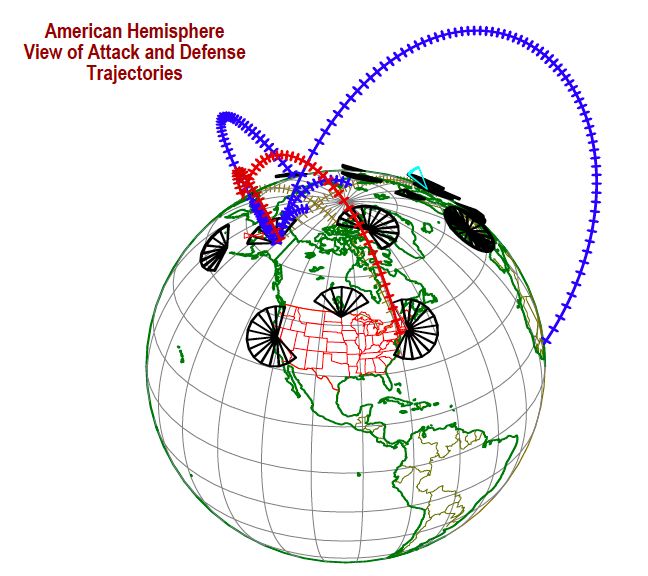 Now let's consider the Russian view of this scenario. Note the yellow zone, which shows where the interceptors may overfly and re-enter the atmosphere, and where it overlaps with Russian territory. With two interceptors flying out against each attacking missile, absent one or more major technical failures, one to two interceptors per missile would fall to Earth inside this area.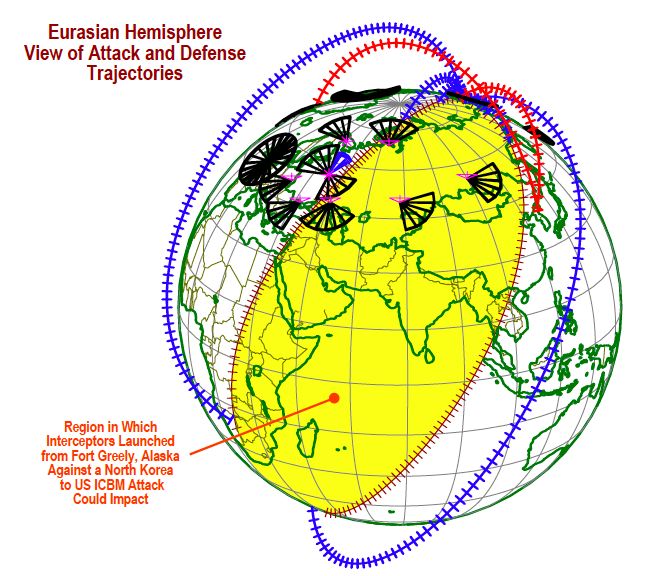 Even in the best case, the opportunity for an unfortunate misunderstanding gives one pause. Don't try this at home.
Now just imagine that the interceptors are flying out of the ICBM field at Minot AFB instead of Ft. Greely. Add to that the possibility that Russia's early-warning network may not detect the North Korean launch in the first place, and this scenario could spoil your entire day.
Perhaps the concern is merely hypothetical, since we're not going to use GMD, barring some horrible miscalculation. As Kim Jong Il once remarked, "It is ridiculous to claim that North Korea will be able to beat the U.S. by developing intercontinental ballistic missiles and blasting them off to the U.S." Nevertheless, in the run-up to both North Korean ICBM tests, back in 2006 and 2009, there was a clamor to shoot that missile down! There will probably be additional ICBM tests and further calls for interception. Some future President might yield to that sentiment. If so, I sure hope that she remembers to tell the Russians in advance.
In short, the two-way conversion ban is there for good reasons. Missile-defense advocates, certainly, should be only too glad to embrace a provision that keeps defenses out of the Treaty limits, keeps inspectors away from interceptors, and reduces the chance that an intercept scenario will escalate into WWIII — a margin of safety that might make a future leader more willing to use GMD, in theory. The Russians may have raised the idea, as they've apparently expressed concerns about silo conversion potential before. Or the Americans may have raised it, for all of the reasons given above. Either way, both sides have sound reasons to want this provision in the Treaty.