The President of South Korea, Lee Myung-bak, has something to say.
The complete text will appear in the comments. For now, I'd just like to call your attention to this passage: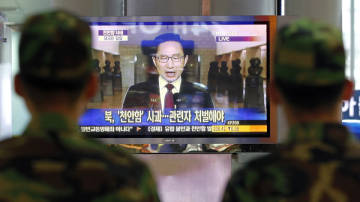 Fellow citizens,

We have always tolerated North Korea's brutality, time and again. We did so because we have always had a genuine longing for peace on the Korean Peninsula. But now things are different. North Korea will pay a price corresponding to its provocative acts. I will continue to take stern measures to hold the North accountable.

From this moment, no North Korean ship will be allowed to make passage through any of the shipping lanes in the waters under our control, which has been allowed by the Inter-Korean Agreement on Maritime Transportation. The sea routes meant for inter-Korean exchanges and cooperation must never again be used for armed provocations.

Trade and exchanges between the Republic of Korea and North Korea will also be suspended. We still remember the killing of an innocent South Korean tourist by a North Korean armed guard at the Mt. Kumgang resort. More recently, North Korea unilaterally confiscated South Korean assets at this same resort. Worse yet, the North sank the Cheonan taking the precious lives of our young sailors. Under these circumstances, any inter-Korean trade or other cooperative activity is meaningless.

However, we will continue to provide assistance for infants and children. Matters pertaining to the Kaesong Industrial Complex will be duly considered, taking its unique characteristics into consideration.

From now on, the Republic of Korea will not tolerate any provocative act by the North and will maintain the principle of proactive deterrence. If our territorial waters, airspace or territory are violated, we will immediately exercise our right of self-defense.
A few things leap out.
First, the refusal of passage to shipping. Does this mean that North Korean merchant vessels will be seized, or merely turned back? Will there be case-by-case judgments? This is the angle of most obvious interest from a nonproliferation perspective; it may go well beyond South Korea's previous decision to join PSI.
Second, by carving out an exception for Kaesong, South Korea is suspending maybe just half its trade with the North, according to Gordon Flake. So the North still has something to lose.
Third, Lee seems to be threatening to shoot at any North Korean military vessel that intrudes past the Northern Limit Line.
I point this out not to invite endless re-litigation of what the proper sea border between North and South is. Let it suffice to say that the North has honored the NLL when it has suited its purposes, and not done so when it hasn't. Lately, it hasn't.
We'll see how the North responds to this challenge. Will they fulminate, but be deterred? Will we be seeing more sea battles in the near future? Lee Myung-bak seems to have intentionally put that choice in Pyongyang's hands.