It's a red-letter day for Norkologists. For one thing, Kim Jong-il's in Beijing, taking what's almost certainly his last train trip outside the country. According to the LA Times, he's dispensed with the usual pair of decoy trains. Perhaps he's now close enough to the end of the ol' personal rail spur that he's no longer quite so afraid of death. Or maybe the DPRK is just out of cash.
On a completely different note, the May/June issue of the Bulletin is out, with no fewer than four NK-related articles. (All are behind the paywall.)
Now, don't worry. I only plan to talk about one of them.
Buddy, Can You Spare a Warhead Design?
In An alternative view to North Korea's bomb acquisition, Li Bin of Tsinghua U. fame offers a provocative argument: that North Korea's apparent decision to build and test a nuclear device with 4 kt yield — unusually small for a first weapon — suggests that they were using a bomb design originally developed in some other country:
If we combine two of the main assumptions proposed above—that the North Koreans aimed for a 4-kiloton yield and that they could not complete such a design without the benefit of previous experience—a potential workable explanation emerges: Pyongyang had access to an existing nuclear weapon design.
(Readers may notice some similarity to Geoff Forden's recent essay on the North Korean missile program.)
Choose Your Anonymous Report
While we can't rule out the possibility of foreign assistance, it doesn't appear to me that there's compelling evidence for an existing design. (Before you ask, the Chinese-origin blueprints delivered by the Khan network to Libya — in a bag from a Rawalpindi dry cleaning shop! — were for an HEU-based weapon. North Korea is working with plutonium.)
Li's assumption that the device was too sophisticated for beginners is based on a report in the South Korean media that the DPRK's 2008 declaration claimed that only 2 kg of plutonium had been used in the October 2006 nuclear test. But it ain't necessarily so. A leaked defector report in the South Korean media in 2005 described an initial device with twice that much fissile material, and some questions about its performance:
Kim [a pseudonym] reportedly said that "North Korea manufactured a nuclear weapon weighing one metric ton with four kilograms of plutonium" and testified that "although North Korean scientists have reported to Kim Jong Il that the nuclear weapon will performance [sic] normally, they in fact have doubts about the performance of the manufactured nuclear weapon."
Since the 2006 test appears to have fizzled, the doubts attributed to North Korean weapons scientists seem to have been well-merited. The fizzle itself is reason to suspect that it wasn't a proven design.
But again, a great deal depends on whether you prefer the 2 kg Pu claim from 2008 or the 4 kg Pu claim from 2005. It just so happens that the yield curves from the Cochrane and Paine paper show that a "low tech" bomb designer ought to be able to get a 4 kt yield from 4 kg Pu, and a "medium tech" designer ought to be able to get a 4 kt yield from 2 kg Pu.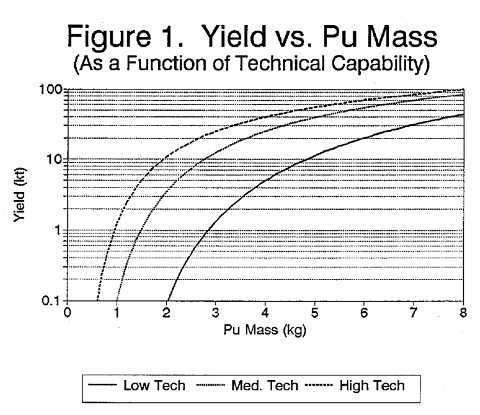 Until more evidence emerges, my money's on a juche nuclear device.
For background to this post, see what Jeff was blogging back in April 2005, July 2005, and October 2006. Yes, this blog is that old now…