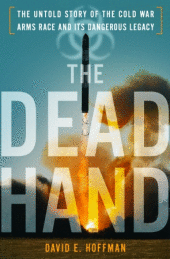 Wow. David Hoffman's The Dead Hand: The Untold Story of the Cold War Arms Race and Its Dangerous Legacy has won the 2010 Pulitzer Prize in the category of general nonfiction. To win in that catch-all category, it had to beat out works on such modest and inconsequential themes as the origins of financial catastrophe and the history of belief in the Almighty.
(John Lennon, wherever you are, eat your heart out.)
We're actually living through the Golden Age of well-researched and highly readable nuclear- or WMD-themed books. Bob Drogin's Curveball: Spies, Lies and the Con Man Who Caused a War, Michael Dobbs's One Minute to Midnight: Kennedy, Khrushchev, and Castro on the Brink of Nuclear War, and Mike Chinoy's Meltdown: The Inside Story of the North Korean Nuclear Crisis all rate a mention. I'm particularly fond of Curveball and The Dead Hand, but they should all be on your shelf.
(Here's where I confess that I simply haven't gotten to Richard Rhodes's Arsenals of Folly yet. It's on the list, OK?)
Between these guys and Hoffman, you'll notice there are three (ex-)newspapermen with some time on their hands, so yes, there is a silver lining to the harrowing of the papers at the hands of the Internet. But never mind. Hoffman, for one, is on a roll these days, producing an outpouring of articles at foreignpolicy.com that frame current events through little-known episodes from the Cold War and its aftermath — testimony to the sort of intellectual capital one builds up by spending years researching a book. Here's his latest, on the significance of the fissile material cleanout plan. This past Sunday, too, he had an op-ed in the Post on counterforce and overkill, plus a news story about the recent removal of HEU from Chile. The guy keeps busy.
Congratulations, David!