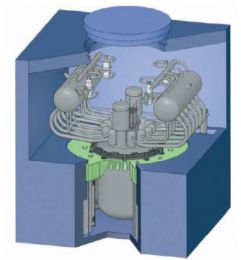 So, looking for something in a nuclear power plant, but not too big and not too expensive? How about a small, modular liquid-metal reactor, provided with its fuel installed? Look no further than the 100 MWe SVBR-100, shipped direct to you by — yes, you guessed it — the Acme company.
According to the New York Times,
Kirill Danilenko, the director of the Russian company, Akme Engineering, said that the technology could be made safe, with no greater risk of meltdown than that at a larger nuclear plant. His vision is that small reactors will become so common that utilities can connect them and "build power plants like Lego sets."

[snip]

The Russian company, Akme, is an acronym for atomic complex for small and medium energy and sometimes renders its name in English as Acme.
World Nuclear News reports that the new mini-reactors should be available by 2019. No word on species requirements for buyers.