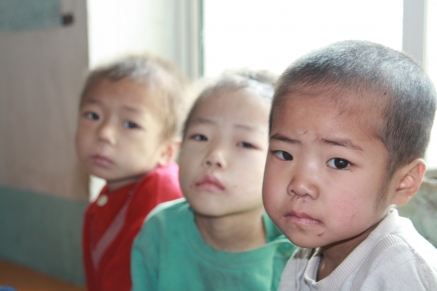 Malnourished children awaiting treatment at a hospital in Sariwon City (North Hwanghae Province) on 18 February 2009. Photo: World Food Program/Lena Savelli
There's a really fine post over at NOH about seizures of goods headed to and from North Korea under UN Security Council Resolutions 1718 and 1874. If you don't know, 1718 prohibited imports and exports of nuclear and missile technology, luxury goods, and certain conventional weapons. 1874, adopted after last year's nuclear test, prohibits the import and export of all weapons and toughens the earlier sanctions in a few other ways as well.
As NOH observes, a lot of fancy goods go into North Korea, and some countries are more assiduous about trying to prevent this than others. (See under Yachts, Italian-made.) That's all the more jarring considering the inability of the country to feed its people.
And guess what? Even the government in Pyongyang is admitting it these days. The North Korean government has now promised the public (as discussed here) that it will stop investing in weapons and heavy industry for awhile, and focus on consumer goods and food production instead. The slogan of the day is "bringing about a radical turn in the people's standard of living." Andrei Lankov points out that Dear Leader — who has been visiting a lot of pig farms, fisheries, and "foodstuff factories" of late — has even expressed disappointment about the lack of good eating and basic comforts in his country:
In January, Nodong Sinmun, a government mouthpiece, reported that Dear Leader Kim Jong-il felt bad for being unable to provide his subjects with the level of material affluence they were once promised.

The promise was moderate, to be sure. In the 1960s, Kim Il-sung, the founding father of the country and also father of the current dictator, promised that eventually all Koreans would eat rice (not corn or barley) and meat soup, live in houses with tiled roofs (not thatched), and wear silk clothes.
Regrets, he's had a few.
Which brings us back to the NOH post. It states:
It was reported last week that China is looking into allegations that it may have been involved in aiding a North Korean arms shipment bound for the Republic of Congo. The shipment, which contained North Korean parts for Congo's fleet of vintage T-54/T-55 tanks, was intercepted by South Africa in November 2009 and reported to the U.N Security Council this week.
Take that, Amazon.com. The proceeds from a sale like that are surely worth a yacht or two.
Of course, North Korea has a long record of shipping obsolete tanks and other weapons to sub-Saharan Africa. (The Ethiopians are said to be a big buyer, for example.) And even communist Pyongyang has learned along the way the importance of ensuring that its goods reach the customer in serviceable condition. How else can we explain what the South Africans found lining the containers sent to Congo?
According to the report, "a large quantity of rice grains in sacks lined the containers and was utilized as protective buffers for the conveyance of the conventional arms."
Priorities, priorities…