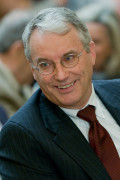 Thomas Fingar, the former Chairman of the National Intelligence Council, had some rather interesting things to say recently about the (in)famous November 2007 National Intelligence Estimate on Iran.
You might remember that the NIE, whose Key Judgments were released to the public in early December 2007, caused a real stir at the time. The judgment that Iran had halted its nuclear weaponization research in 2003 seemed to undercut the pursuit of a third round of sanctions in the Security Council. Some critics felt that the IC had reached this conclusion and then publicized it in order to hamstring the White House.
But according to Fingar, now a Distinguished Lecturer at Stanford, it was none other than the White House that ordered the document released:
This example is drawn from the highly contentious 2007 National Intelligence Estimate on Iran's Nuclear Intentions and Capabilities. It became contentious, in part, because the White House instructed the Intelligence Community to release an unclassified version of the report's key judgments but declined to take responsibility for ordering its release.
This comes as news.
Fingar also disputes the idea that the new conclusions about weaponization research were intended to box policymakers in. Rather, he says, it was part of an estimate designed to give policymakers "a timeline, a sense of urgency, and possible alternative ways to address the problem" — an approach consistent with the larger theme of his remarks, which is the importance of identifying both threats and opportunities.
Here's where he translates the hidden message. Get out your secret decoder rings, kiddies:
In other words, the message it was intended to send to policymakers was, "You do not have a lot of time but you appear to have a diplomatic or non-military option." Prior to the publication of this Estimate, the judgment of the Intelligence Community—and of many pundits and policymakers—was that there was no chance of deterring Iran from pursuing a nuclear weapon and that the only use of force—military options—could prevent Tehran from acquiring the bomb. The estimate also judged, and stated clearly, that Iran at a minimum had retained the option to pursue a weapon and that whether to do so would be a political decision that could be made at any time.

How those judgments could be construed as dismissing the idea that Iranian nuclear activities were a major problem continues to mystify me…
Read the whole thing.