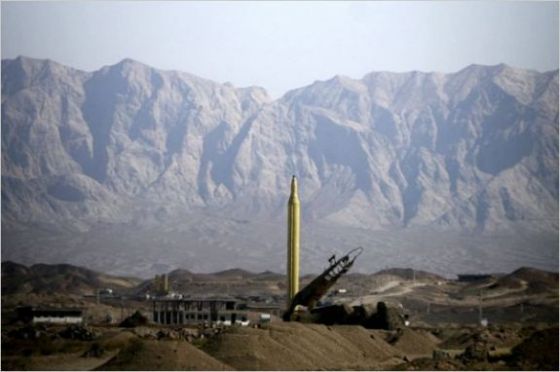 From the 2010 wall calendar, "Scenic Missile Tests of Iran." (Just kidding.)
Confusion surrounds the names used for ballistic missiles in Iran, where designators seem to come and go unpredictably. But a just smidgen of linguistic information may clarify the picture.
Let's review. So far, Iran has launched or flight-tested the following types: a family of single-stage liquid-fueled missiles, all called either "Shihab" or "Ghadr"; and a two-stage solid-fueled missile (or family of missiles) called "Ashura" or "Sejil." Let's leave aside artillery rockets, sounding rockets, and space launch vehicles, at least for now.
Shihab-1 and Shihab-2 appear to be names for different types of Scud missiles, originally imported from other countries, and later produced in Iran. Shihab-3 is the Iranian name for locally produced copies of the North Korean Nodong. "Ghadr" or "Ghadr-1" is sometimes applied to a Shihab-3 variant with a triconic "baby bottle" nosecone, the sort seen in the picture above. This type of missile has yet to appear outside of Iran.
Iran's solid-fueled missiles were first introduced as "Ashura," and thereafter called "Sejil."
What the Names Mean
An intriguing pattern emerges: the four names come in pairs.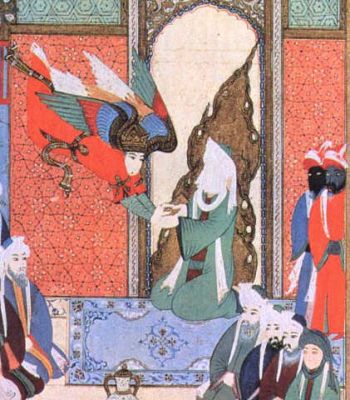 Ghadr and Ashura are easily recognizable. These refer to special dates on the Muslim calendar: Laylat al-Qadr, commemorating the first revelation to the Prophet Mohammed; and Ashura, the Shi'ite commemoration of the martyrdom of Husayn.
[Update. On further reflection, if for no reason other than parallelism, Ghadr seems at least as likely to refer to Eid al-Qadr, which commemorates the appointment of 'Ali as successor to Mohammed. (So much for that nice illustration on the right.) Like Ashura, this is an event on the Shi'ite calendar. The word could also simply mean "greatness," its literal meaning, but this strikes me as unlikely; why use an Arabic word in this context if the religious allusion wasn't intended?]
The other two names, Shihab and Sejil, are obscure by comparison, but both appear in the Qur'an. Shihab, usually translated as "comet," appears in Surah 15:
16. And verily in the heaven We have set mansions of the stars, and We have beautified it for beholders.
17. And we have guarded it from every outcast devil,
18. Save him who stealeth the hearing and them doth a clear flame [shihab] pursue.
In Surah 37:
6. Lo! We have adorned the lowest heaven with an ornament, the planets;
7. With security from every froward devil.
8. They cannot listen to the Highest Chiefs for they are pelted from every side,
9. Outcast, and theirs in a perpetual torment;
10. Same him who snatcheth a fragment, and there pursueth him a piercing flame [shihab].
And in Surah 72:
8. And (the Jinn who had listened to the Qur'an said): We had sought the heaven but had found it filled with strong wardens and meteors [shohuban].
9. And we used to sit on places (high) therein to listen. But he who listened now findeth a flame [shihaban] in wait for him.
Sejil appears in Surah 105, which recalls the defeat of an Ethiopian expedition against Mecca:
1. Has thou not seen how thy Lord dealt with the owners of the Elephant?
2. Did He not bring their stratagem to naught,
3. And send against them swarms of flying creatures,
4. Which pelted them with stones of baked clay [sijeel]
5. And made them like green crops devoured (by cattle)?
(All translations are from Pickthall, The Meaning of the Glorious Koran.)
So both names allude to projectiles wielded by the agents of God to repel interlopers: the shihab (a shooting star, perhaps) is flung by watchful angels against eavesdropping devils or jinns, whereas "flying creatures" sent by the Lord dispatched an invading army with sijeel stones. If nothing else, these names express an idea of national defense as divinely sanctioned. It would be interesting to know if the "Shihab" designation goes back to the Iran-Iraq war, known in Iran as "The Sacred Defense."
So Why Two Names Each?
Here's one possibility. It appears that the two ballistic missile types indigenous unique to Iran have two names apiece: the Ghadr/Shihab-3M and the Ashura/Sejil. "Shihab" and "Sejil" are clearly the names of production missiles. "Ghadr" and "Ashura" could be code names for the RDT&E programs that preceded them.
There's another detail that lends support to this theory: the name "Ghadr" appears to have been first revealed by the NCRI as the name of two missile development programs, Ghadr-101 and Ghadr-110. What's more, Jane's tentatively identified one of these programs with the (apparently canceled) Shihab-4.
On the other hand, Norbert Brügge observes small differences between the Ghadr-1 and the Shihab-3M, suggesting that both might be production missiles.
Anyway, that's about as far as a humanities background will take us on this issue. I now humbly hand it back to the physics and engineering wonks.
Thanks to readers Amir and Bahram for the corrections.