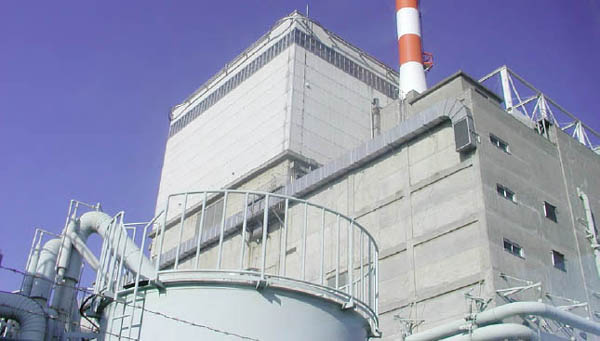 A close-up view of the decommissioned Tokai Power Station — Japan's first power reactor
The usual answer to that question is the one that the North Koreans have supplied: gas-cooled, graphite-moderated reactors can be operated without enriched uranium or heavy water, and are therefore ideal for a country with limited or no ability to get these things. They're ideal "starter reactors."
(The North Koreans originally said they were intent on producing electricity, of course, not plutonium.)
Thus, the DPRK set out to build a trio of gas-graphite reactors at Yongbyon and Taechon in the 1980s. Of these, only the 5 MWe reactor at Yongbyon — usually described as an indigenous copy of the UK's Calder Hall design — was completed.
But maybe there's another answer as well.
One of the more striking things about the Yongbyon reactor is how little it actually resembles a Calder Hall, at least on the outside. The basic technologies are the same, but the buildings themselves are not. Let's start with the overhead views from Google Earth.
Here's one of the surviving Calder Hall structures at the Sellafield site in the UK. It's roughly cross-shaped, about 88 m at its longest. There are four scaffold-like structures at the corners. Update: These are the heat exchangers. The tall central structure flanked by two stacks holds the reactor vessel. Its footprint is about 20 × 40 m.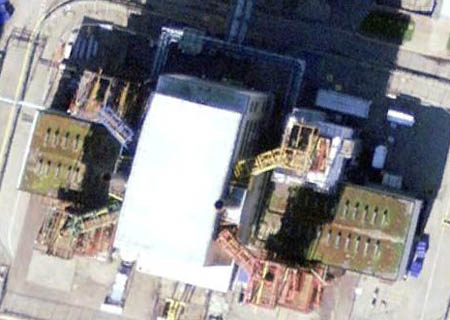 And here, of course, is the Yongbyon reactor. It's a squarish, multi-tiered structure, about 53 × 60 m. It features a tall central structure measuring about 24 × 33 m and a single stack, offset to one side.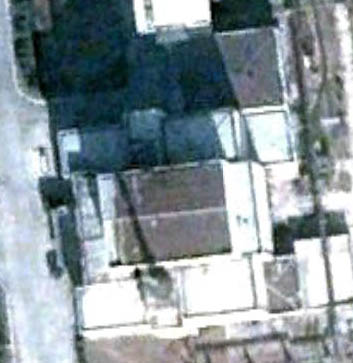 And now for something you probably haven't seen before.
This is the Tokai Power Station in Ibaraki Prefecture, Japan. It was the country's first power reactor, operational from 1965 to 1998. It's a modified Calder Hall, designed and built by General Electric Corp. (UK) to suit Japan's seismic conditions. Until Yongbyon was built, in fact, Tokai was the only gas-graphite power reactor outside of Europe.
It's a multi-tiered structure, about 51 × 67 m. It features a tall central structure measuring about 26 × 47 m and a single stack, offset to one side.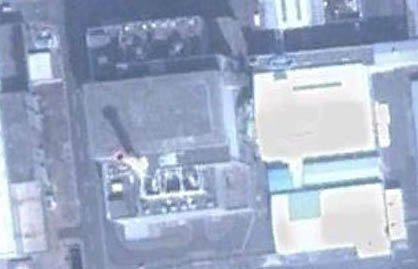 Update: All of the above images are oriented with the north at the top. I don't know what to read, if anything, into the apparently identical orientation of the Tokai and Yongbyon reactors.
Obviously, this reactor, which had 166 MW electrical output, is no dead ringer for Yongbyon. But it's much closer than the original Calder Hall type. Have a look at this ground truth comparison, with views of Tokai on the top, Yongbyon on the bottom left, and Calder Hall on the bottom right:
Even the park-like settings are similar.
Construction at Tokai began in 1960. Japan's acquisition of a reactor suitable for making both electricity and plutonium, just as North Korea's own nuclear research program was getting underway, would not have gone unnoticed in Pyongyang. So it would not be surprising if Yongbyon was modeled on Tokai, even though it was built 20 years later.
For comparison, recall the striking resemblance between North Korea's first artificial satellite, Kwangmyongsong-1, allegedly launched in 1998, and China's Dongfanghong-1, actually launched in 1970.
Think of it as a statement of sorts, a declaration of national equality.
Update. I plan to add some further discussion of North Korea's motives for building reactors in the 1980s. Watch this space.