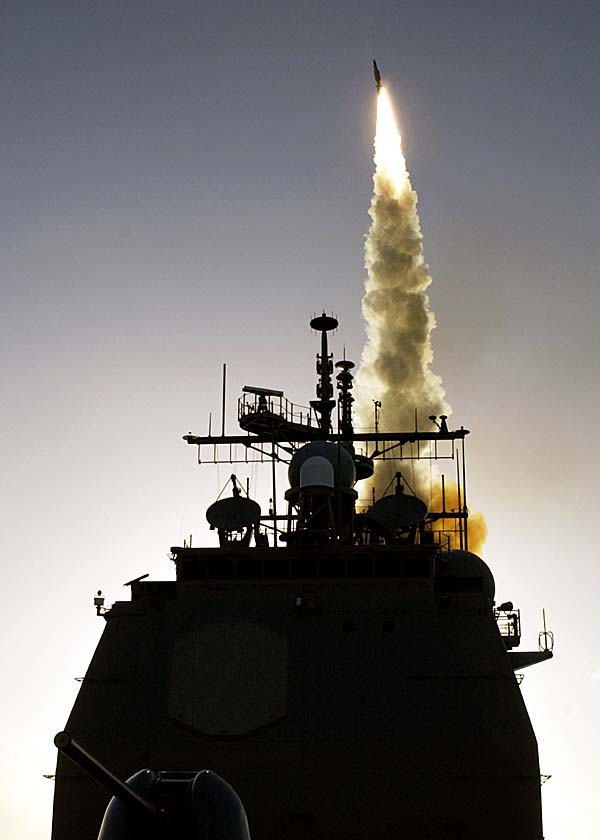 Plenty has already been said about last week's missile defense announcement, with the diplomacy and the politics taking center stage. Now let's see if we can't tip the balance back just slightly towards the wonky. After all, that's where President Obama put the focus on April 5 when he said, "As long as the threat from Iran persists, we will go forward with a missile defense system that is cost-effective and proven."
That last word, "proven," helps to explain the several mentions of testing in the White House's fact sheet. Note the added emphasis in this description of current plans:
Phase One (in the 2011 timeframe) – Deploy current and proven missile defense systems available in the next two years, including the sea-based Aegis Weapon System, the SM-3 interceptor (Block IA), and sensors such as the forward-based Army Navy/Transportable Radar Surveillance system (AN/TPY-2), to address regional ballistic missile threats to Europe and our deployed personnel and their families;
Phase Two (in the 2015 timeframe) – After appropriate testing, deploy a more capable version of the SM-3 interceptor (Block IB) in both sea- and land-based configurations, and more advanced sensors, to expand the defended area against short- and medium-range missile threats;
Phase Three (in the 2018 timeframe) – After development and testing are complete, deploy the more advanced SM-3 Block

IIA

variant currently under development, to counter short-, medium-, and intermediate-range missile threats; and

Phase Four (in the 2020 timeframe) – After development and testing are complete, deploy the SM-3 Block

IIB

to help better cope with medium- and intermediate-range missiles and the potential future

ICBM

threat to the United States.
If you are wondering about that "current and proven" in Phase One, the manufacturer claims 15 successful SM-3 intercept tests. (Update: MDA has a test record fact sheet. CDI has a detailed rundown through June 2008. And here's Wikipedia.)
By contrast, when the decision to deploy the previous version of a European defense system was announced in October 2007, not only had the system not been tested, but no plans for testing had been made; so stated an October 2007 report of the Pentagon's Office of the Director of Operational Test and Evaluation (DOT&E). A test plan was later accepted at the insistence of Congress.
As much as anything else, then, the change from 2007 to 2009 expresses a different philosophy about the need for "proven" systems, meaning ones that have been tested.
In fairness, though, we don't know what a similar DOT&E report would say today about the new "Phase One." How fully applicable is past Aegis/SM-3 testing to the proposed deployment? It's not entirely clear.
Testing Against What?
We'll also have to wait and see just how rigorous the testing programs are for Phases Two through Four. A nagging problem in the BMDS test regime has been the absence of what MDA calls "complex countermeasures" from its midcourse intercept tests. (The midcourse category includes both GBI—the basis of the discarded European proposal—and SM-3.) David Wright of UCS alluded to this issue in his statement that the new system, like the old, "does not square with technical realities."
UCS is well-known as a tough critic of midcourse defenses. The organization sponsored the Countermeasures report of 2000, which argued that midcourse systems, which intercept warheads above the atmosphere, can be flummoxed by the attacker's use of certain technologies, including the creative use of balloon decoys.
MDA's initial response to this problem was to argue that adversaries like North Korea actually were not yet capable of mastering this level of countermeasures technology. Later, it initiated development of the Multiple Kill Vehicle (MKV) system, designed to overcome decoy deployment with large numbers of interceptors.
Unfortunately, MKV is being canceled. According to the Secretary of Defense, it turned out to be "plainly unworkable, prohibitively expensive and could never be practically deployed." This could be a problem, since surprisingly sophisticated missile developments in Iran, which have led to revised intelligence assessments, make it that much less likely (on the face of it) that challenging countermeasures are still many years away.
So what does the new intelligence estimate say about countermeasures? And how will this issue be reflected in future SM-3 development and testing? Something tells me that we'll be circling back to these questions at some point.
Update. David Wright and UCS colleague Lisbeth Gronlund now have an essay in the Bulletin laying out the argument against an Aegis-based defense at somewhat greater length. It would be interesting to know what sort of defenses they would prefer for NATO Europe: terminal-phase systems like Patriot? Boost-phase systems like those advocated by Richard Garwin or Ted Postol? Both of these? Nothing at all? There are serious arguments to be made for any of these positions.