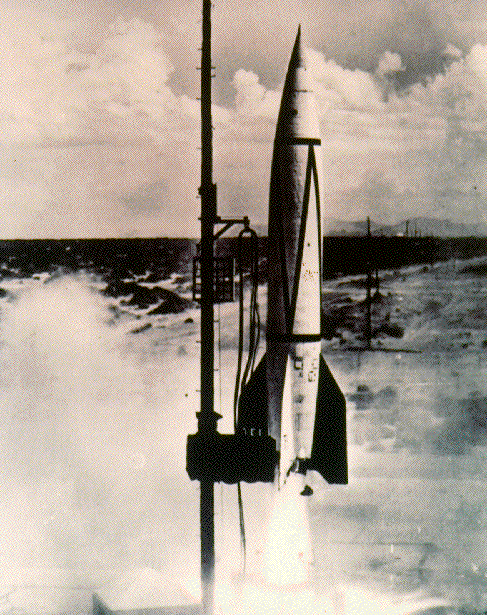 For reasons not worth going into, lately I've been reading an awful lot about ballistic missile warfare. Today's cutting-edge theater missile made in Russia, China, or the United States is a precision battlefield weapon, suitable for attacking military bases or formations. Or crushing the occasional civilian vehicle, but hey, stuff happens. (See: SS-21 Debris In Georgia, Revisited, June 10, 2009.)
It wasn't always this way.
Until pretty recently, in fact, missile warfare was the ballistic equivalent of area bombing. Thousands of inaccurate V-2s — like the one shown above at Peenemünde White Sands, apparently — battered London and Antwerp in 1944. Iraq and Iran targeted each other's cities with ballistic missiles in the 1980s, culminating in a series of demoralizing attacks on Tehran in March and April 1988. After the USSR withdrew its regular forces from Afghanistan, the Red Army unleashed Scud barrages against mujahideen fighters for a time. And Iraq famously employed its "stretched Scuds" against Israel, Saudi Arabia, Bahrain, and Qatar in January and February 1991.
This last episode is remembered as the baptism by fire of the Patriot missile. Despite an initial perception of success, upon close examination, the first time out was a ringing failure. Upgraded systems appear to have worked better in the next war against Iraq in April 2003, despite a handful of friendly-fire incidents. (Update: see also Patriot Performance in Iraq, March 1, 2005, and the DSB report on this subject.) But in the ceaseless competition between offensive and defensive weapons, perfection is simply too much to ask.
The late, distinguished physicist Wolfgang (Pief) Panofsky sketched out the implications of this fact for defense against nuclear attack as clearly and crisply as I can recall seeing anywhere in a June 2001 article in Arms Control Today: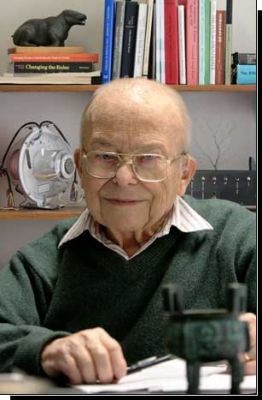 Nuclear weapons, however, profoundly changed the relationship between offense and defense because they increased the explosive power of a payload of a given weight and size by a factor of one million—a very profound change indeed. The demands on the performance and reliability of defenses against an attack by even a single missile carrying a nuclear weapon must therefore be extremely high for the defense to be considered effective. When the Germans attacked Britain during World War II with primitive ballistic missiles, none were intercepted, but the damage was limited because the missiles carried conventional explosives. Had they carried nuclear warheads, a single missile would have devastated London. Defense against ballistic missiles is therefore a totally different problem depending on whether such missiles carry conventional or nuclear payloads.
One might say that missile defenses can be asked to reduce levels of tolerable harm. They cannot be asked to prevent any and all intolerable harm. For that, of course, we have nuclear deterrence.
Because of space limits, I couldn't include the lengthy quotation above in my first column at the Bulletin of the Atomic Scientists, where Panofsky's work was published many times. For that, of course, we have blogs.
(See also: "Pief" Panofsky, renowned physicist and arms control advocate, dies at 88, September 25, 2007; and In memoriam: Pief Panofsky, October 2, 2007.)