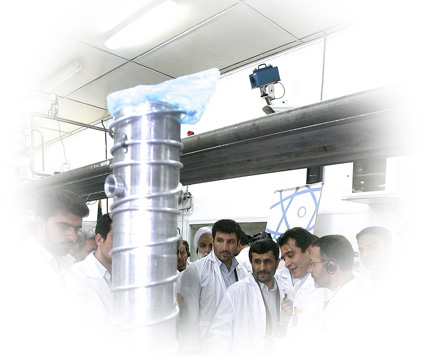 Warning: long post.
Observing the frequent travels of the IAEA's Olli Heinonen to Iran of late, Andreas Persbo suggests that the negotiation of new safeguards measures may be underway for the still-incomplete gas-centrifuge enrichment plant at Natanz, currently undergoing low-level operations.
This raises a rather interesting question: just how does the IAEA conduct safeguards at Natanz these days?
Why You Should Care
The question is interesting and pertinent, too, because if Iran were to attempt to produce HEU for a nuclear bomb, it would probably happen at Natanz. As David Albright and Jackie Shire have pointed out:
Two basic scenarios capture Iran's most likely routes to developing highly enriched uranium (HEU) for its first nuclear weapons. The first would be for Iran to build and operate a secret gas-centrifuge plant. The second would be for Tehran to "break out" after producing a stock of low-enriched uranium (LEU) that would then be used to jump-start the production of weapons-grade uranium either at its enrichment plant at Natanz or in a secret site.
Drawing on my own knowledge base, admittedly slender by local standards, I'll go out on a limb to make a further observation on this point. While Iran stays within the NPT, a breakout attempt is not very likely to occur at an unknown site operating in parallel to Natanz.
(Here is where the apprentice lion tamer, AKA guest blogger, apprehensively pokes his head into the maw of the King of Beasts, AKA commenters with serious domain knowledge.)
Simultaneously producing LEU at Natanz and HEU at a secret centrifuge site would be a fraught undertaking. In part because of the telltale UF6 particles that settle on every surface of a working centrifuge plant — including the clothes and skin of personnel — the two programs would have to maintain a rigorous separation to avoid detection.
It would not simply be a matter of delivering every third or fourth new centrifuge to a secret warehouse on the outskirts of (let's say) Esfahan: there would have to be a duplicate everything and everyone, with no communication between the two sides.
The potential for secret sites is a serious, serious problem, perhaps the most serious problem. But it would become much greater if Iran were to leave the NPT and kick the IAEA out of Natanz.
(No snapping of jaws? Good, let's continue.)
Back To The Question
Just how the IAEA conducts safeguards at Natanz is not directly publicized, so far as I can tell, but there are some good hints available. A likely starting point, recognizing that it is somewhat dated, is a paper delivered by D.W. Swindle to the March 1990 meeting of the American Physical Society, titled, aptly enough, "Realities of Verifying the Absence of Highly Enriched Uranium (HEU) in Gas Centrifuge Enrichment Plants."
The processes described by Swindle, which were developed in the early 1980s, serve two major purposes: to ensure that plant operators can't make HEU onsite without having it detected, and to ensure that they can't divert LEU produced there to some other location without having that detected, either. (LEU can be further enriched into HEU.)
LEU diversion is deterred mainly by taking a periodic inventory. The centerpiece of the process for deterring HEU production consists of Limited Frequency Unannounced Access (LFUA) inspections. Between four and 12 times a year, inspectors show up and give two hours' notice for an inspection, within 24 hours of entering the country. Things they do:
Visual Observation. Inspectors enter the cascade hall and have a look around, to ensure that the piping hasn't been re-routed.
Non-Destructive Assay (

NDA

). Inspectors use portable gamma-ray detectors to measure enrichment levels inside the cascade header pipes. Is it

LEU

? Is it

HEU

? This is one way to know.
Sampling. This is another way to know, more accurate than

NDA

. It's not a routine thing, but if

NDA

detects an "anomaly," well then.
Tamper-Resistant Seals. Inspectors place seals in strategic locations and check on previously placed seals, to ascertain whether there has been any fiddling in the meantime.
More current information can be gleaned from a 2004 paper by five members of the IAEA Safeguards Department, titled "IAEA Experience with Environmental Sampling at Gas Centrifuge Enrichment Plants in the European Union."
The authors describe LFUA in terms of visual observation, "application of surveillance systems," and NDA. ("Surveillance systems" presumably means cameras, like the one in the picture at the top of this post.) Then the authors describe a new technique introduced in the mid-1990s, environmental sampling (ES):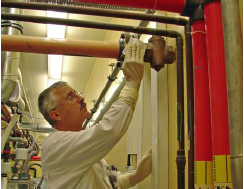 Environmental samples at enrichment plants are collected by swiping selected areas of the plant with squares of cotton cloth (10×10cm) from sampling kits prepared in ultra clean conditions. The squares of cotton cloth sealed in plastic bags are sent for analysis to the Safeguards Analytical Laboratory (SAL) and/or the Network Analytical Laboratories (NWAL). The analysis includes the measurement of uranium isotopic composition in uranium-containing particles by Thermal Ionisation Mass Spectrometry (TIMS) or Secondary Ion Mass Spectrometry (SIMS).
[I was remiss in not pointing out James's explanation of a more up-to-date technique, FT-TIMS, in another context.]
Anyone who has bothered to read this far probably already knows that ES has played the starring role in the Iran-IAEA drama. The accuracy of the technique, combined with the persistence of trace amounts of uranium, certainly came as a shock to the Iranians.
Beyond ES, and in some ways even better, there is also continuous monitoring with radiation detectors hooked up to pipes. Basically, this amounts to 24×7 NDA. But the Iranians appear to have managed to resist this measure so far.
Having Established All That
We're now in a position to interpret the previous IAEA Director-General's reports on nuclear safeguards and compliance in Iran. The latest such report is dated May 26. It reads, in part:
4. Between 28 January and 16 May 2008, Iran fed a total of approximately 19 kg of UF6 into the 20-machine IR-1 cascade, the single IR-2 centrifuges, the 10-machine IR-2 cascade and the single IR-3 centrifuges at PFEP. All nuclear material at PFEP, as well as the cascade area, remains under Agency containment and surveillance.

5. The results of the environmental samples taken at FEP and PFEP indicate that the plants have been operated as declared. The samples showed low enriched uranium (with up to 4.0% U-235), natural uranium and depleted uranium (down to 0.4% U-235) particles. Iran declared enrichment levels in FEP of up to 4.7% U-235. Since March 2007, fourteen unannounced inspections have been conducted.
So from March 2007 to May 2008, 14 LFUAs took place — an average of one per month, the maximum based on past IAEA practice elsewhere. ES has confirmed Iran's claims that only LEU has been produced so far. (Natural uranium is what's fed into the enrichment process, and depleted uranium is what's left over from it.)
There's been a fair amount of pushing and shoving between Iran and the IAEA about safeguards measures. (Recall the earlier fight over entry visas for inspectors.) But the story boils down to this: If Iran wants to use Natanz to break out undetected, they'll have to keep the inspectors out.
Scott Kemp and Alexander Glaser have argued that with enough LEU on hand, and with the right kind and numbers of centrifuges, under the right conditions, it would be feasible (in the absence of continuous monitoring) to do an undetected breakout at a centrifuge plant in the space of a couple of weeks. And who am I to argue with them? But at a minimum, they'd have to fool the cameras, and would be gambling with randomly timed LFUAs.
So What?
You knew there was a point to this, right?
It's commonly assumed that once the Iranians accumulate a certain number of centrifuges, voilà, they will have crossed the nuclear threshold. This idea is sometimes called "the point of no return."
That's why it's also widely believed that anyone who wants to stop Iran from getting nuclear weapons must deliver high explosives on Natanz at some point soon.
If you've followed all of the above, you'll probably see already why that conclusion does not follow (setting aside what for essentially the same reasons that Albright, Brannan, and Shire have argued about the (in)feasibility of such a plan). But just in case it's not apparent, here's why:
Natanz is under the microscope of the

IAEA

. Sufficiently quick undetected cheating at this facility is not a realistic proposition in the near-to-medium-term future.
If someone did bomb Natanz, the Iranians could simply pull out of the

NPT

and rebuild the plant somewhere else in secret.
Bombing Natanz could therefore lead Iran to get the bomb sooner than would otherwise be the case.
On the other hand, if the Iranians were to attempt to break out at Natanz, there would be little to stop the U.S. from bombing the place, since that would at least slow things down somewhat.
Bottom line: using force to prevent Iran from going nuclear would be a much bigger undertaking than just an air campaign. Regime change really would be necessary. But the Iranians could instead be deterred from attempting breakout.
Still, if the Iranians don't want to tempt fate, agreeing to continuous monitoring would help.