Let's suppose you're the kind of person who would read a blog like this. (You are.) Let's further suppose that you happen to be in the Washington, DC area with a few hours to kill.
Check out the Steven F. Udvar-Hazy Center of the National Air and Space Museum. It's fun for the entire nuclear family. Really, weapons of mass destruction that would seem controversial downtown fit in just fine out by Dulles Airport. And regardless of one's feelings about nuclear delivery vehicles, a visitor can't help noticing that a lot of them really look sweet.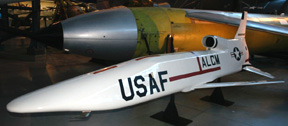 For starters, consider the AGM-86A Air-Launched Cruise Missile. It wouldn't seem halfway out of place on a sci-fi movie set.
Then there's the Poseidon Submarine-Launched Ballistic Missile.
Your eyes do not deceive you: it's a woody! [Not quite, as explained in the comments.]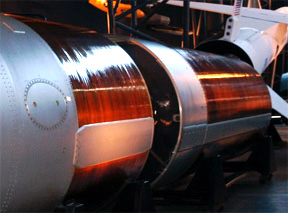 The all-natural fuselage material of the C-3 must serve some functional purpose, but as an aesthetic statement, it's hard to top. That's the retro nuke to have on display in your living room. And when you think about it, it's not that much more incongruous than decades' worth of classic station wagons like this one.
(Chinese Transporter-Erector-Launcher with whitewall tires, eat your heart out.)
Finally, the Enola Gay must have its due.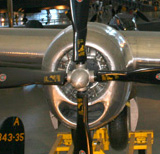 As an object for contemplation, it has few peers. Visually, a few impressions stand out: the sheer size of the machine, its elegant lines and gleaming finish, the quadruple death's-heads of the sculpted engines.
For anyone aware of the plane's significance, its presence chills an otherwise cheerful space. Is there a more awful symbol of destruction? Perhaps the Western Wall of the Temple Mount in Jerusalem. Obviously, we don't place messages in the crevices of the Enola Gay. (The Museum staff would frown upon that.) But possibly it has a message for us.