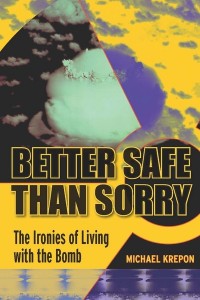 I was in New Delhi when I first felt the lump in my chest. At that moment, in 2007, the slow, progressive decline in my health could no longer be wished away – not when I had a tumor the size of an orange growing through my sternum. I learned subsequently that my cancer was at Stage 4 and that there were other tumors. (Oncologists are notoriously chary with information that isn't helpful to recovery.) This past weekend I learned that my wife's friend has the same adversary – Large B-Cell Lymphoma — in the same place.
During chemotherapy, I was editing Better Safe than Sorry: The Ironies of Living with the Bomb. The subtitle was in place before the chemo but took on greater meaning during my illness and recovery. As a young congressional staffer, I helped my boss to delete funding for binary nerve gas munitions that the Army's Chemical Corps then wanted to produce. Thirty years later, I joined the legions of those whose lives have been extended by chemical warfare.
Aggression can be turned against the aggressor, in medicine as in international relations. Every action begets counter-actions; timelines and results vary. Large B-Cell Lymphoma is a very aggressive adversary. It's like a heavyweight boxer who throws haymakers while leaving his body wide open to counter-punches. The chemo cocktail designed for this particular cancer is a fierce counter-puncher.
The ironies of my experiences with chemical warfare pale in comparison to the ironies associated with the Bomb – a weapon so powerful that its owners shy away from its use. Threatening use to deter threats is another matter. Russia, North Korea, and Pakistan resort to nuclear threats more than other states, but rational leaders do not wish to cross the nuclear threshold, even in extremis. And if deterrence fails, which it often does, nuclear weapons are more dangerous than helpful. What could be more ironic than spending large sums for weapons that if used on battlefields can result in ruin? Still, we live with the Bomb because we are attached to our ironies, our adversaries, and our fears.
* * *
Note to readers: While under the influence of chemo, I wrote a small book of axioms, Life Lessons: Dealing with Chemo & Serious Illness. It might be helpful for someone you know going through this ordeal.