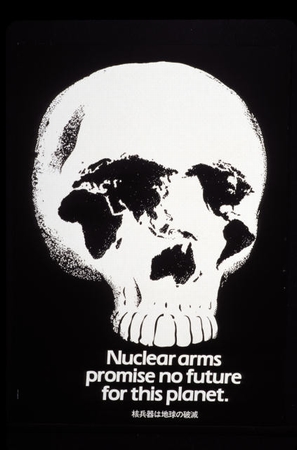 The Selfie Generation doesn't do arms control. Its cause célèbre is the environment. This grandparent can relate. I am excited and grateful to see how much youthful energy is now directed toward healing our planet's wounds. I am also very jealous. My cause célèbre has faded. Fewer and fewer people focus on reducing nuclear dangers. Street marches are now about climate change.
Graphic stories of environmental disasters rooted in long-term disregard for carbon emissions, air pollution, and the degradation of water quality are with us every week. A study by the National Climactic Data Center and National Center for Atmospheric Research estimates that the frequency of "billion dollar storms" increases at a rate of roughly five per cent a year, which seems understated. A 2013 report by the U.N.'s Intergovernmental Panel on Climate Change estimates that a rise in temperature of two degrees Celsius will cost up to two per cent of the world's income by 2050. This UN panel also estimated that the combined cost of crop losses, rising sea levels, higher temperatures and fresh water shortages could amount to between $70 and $100 billion a year. These estimates also appear understated: According to the Natural Resources Defense Council, the insurance industry estimated that climate-related disasters in the United States in 2012 alone resulted in more than $139 billion in damages. The cumulative costs of clean-up after a decade of super storms, droughts, and battered shorelines remind me of the estimated cost consequences for limited nuclear wars back in the 1980s.
The United Nations devotes a special summit to raise environmental consciousness and accelerate corrective measures. Back in my day, there were special UN sessions on disarmament. President Obama has made protection of the environment a key priority during the remainder of his second term, while prospects for another strategic arms reduction treaty and the entry into force of the Comprehensive Test Ban Treaty recede further into the future. Young talent entering the work force is now focused on environmental causes, while 48 per cent of the civil servants working on arms control in the State Department near retirement age.
On Capitol Hill, champions of arms control issues are dwindling. Non-governmental organizations could also benefit from a new wave of energy. During tough times, it's always a good strategy to invest in rising talent — otherwise, the future could be more daunting than the present. Unfortunately, major foundations continue to leave the field, and a new generation of techno-philanthropists is drawn to causes where investments can yield quantifiable progress. When political conditions permit, quantifiable progress in reducing nuclear stockpiles and deployed forces is certainly possible, but the most important successes in reducing nuclear dangers are often measured by non-events.
The comparison between the number of environmental studies departments and courses now offered at the college level and in graduate schools with arms control-related courses would be striking. But there's no need to do the math: the conclusions are obvious. Can those still interested in reducing nuclear dangers poach off the energy of the environmental movement? I doubt it. Those with a sense of mission are not easily diverted, and besides, opportunities to work on arms control and non-proliferation are increasingly scarce. Will it take another big scare or a nuclear catastrophe to rejuvenate the field?