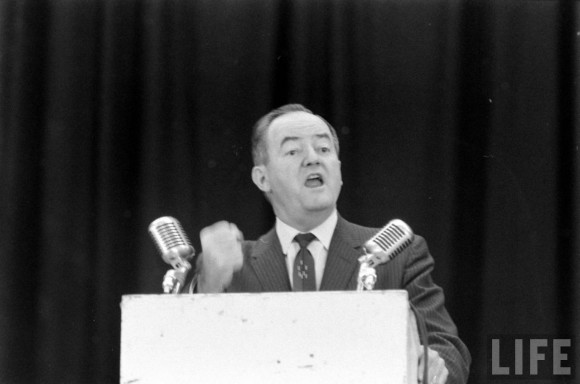 On the 100th year anniversary of his birth, recognition is due for Hubert Humphrey's many accomplishments, one of which was to spur the creation of the U.S. Arms Control and Disarmament Agency.
Humphrey bore great resentment for being LBJ's Vice President and spear carrier during the Vietnam War. In the 1968 presidential campaign, he had the monumental task of pulling together enough Democrats and Independents to beat Richard M. Nixon. I was involved in anti-war teach-ins and demonstrations and had great difficulty supporting him. For some reason, I still distinctly remember bumping into a friend at graduate school, Michael Van Dusen, who looked resplendent wearing a flower power tie and sporting a complementary political button on his sport jacket lapel that read "Hubie, Baby!" (After receiving his Ph.D. at SAIS in Middle Eastern studies, Michael forged a decades-long bond working with Congressman Lee Hamilton.) That might have been the moment when I got my butt off the fence and committed to the Happy Warrior.
Hubert Humphrey earned this nickname championing many causes, including civil rights when this meant losing the Old South to the Republican Party. When Humphrey became the Chairman of the Senate Foreign Relations Committee's Subcommittee on Disarmament, he set his sights on the creation of ACDA. He also insisted that a woman join the ranks of the graying, male Committee staff to help him in this pursuit – Betty Goertz, later Betty Goertz Lall.
Faithful readers of these blog posts may recall one of my favorite shoebox quotes, where former Secretary of Defense Robert A. Lovett warned that ACDA would become "a Mecca for a wide variety of screwballs… It would be a great pity to have this Agency launched and shortly become known as a sort of bureau for beatniks." That's what Humphrey was up against. Among his counter-arguments:
"There are also those who feel that the real test of patriotism is whether you can rattle the saber a little louder than somebody else or wave the flag a little higher. Actually, I suppose the greatest patriot of them all would be the one who discovers the path of peace"

"Congress gets all excited, and rightly so, about these new weapons possibilities….Yet there does not seem to be this same degree of excitement over how you could prevent all of this from happening."

"It has always appeared to me that it is as important to be prepared for disarmament discussions as it is to be prepared in terms of our defense."
Humphrey persevered and won this battle. President Kennedy signed the bill creating ACDA in September 1961. As is the case with regulatory agencies in Washington, ACDA bobbed up and down in the currents of domestic U.S. politics. Its demise was sealed when, in return for the Senate's consent to ratify the Chemical Weapons Convention in 1997, President Clinton yielded to the wishes of Senate Foreign Relations Committee Chairman Jesse Helms and other die-hard opponents to fold what remained of Humphrey's handiwork into the State Department. By then, Republican presidents had purged and populated ACDA into becoming a Mecca of sorts for skeptics of arms control.
Humphrey was the Democratic Party's analog to Barry Goldwater: you could disagree intensely with his politics while still admiring him. He remained active and upbeat in the Senate even after cancer began to hold an unshakeable grip on his body. At the end of his public life, his demeanor radiated pure grace, without a single maudlin or self-pitying trace. He lay in state under the Rotunda of the Capitol in January 1978, where I joined a very long line to pay my respects.