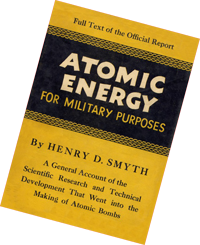 Just three days after the bombing of Nagaski, on August 12, 1945, General Leslie Groves released an "administrative history of the Atomic Bomb project and the basic scientific knowledge on which the several developments were based." It was known as the Smyth Report, after its author, Professor Henry DeWolf Smyth. Smyth taught Physics at Princeton before and after his stint at Los Alamos. The report's official title was A General Account of the Development of Methods of Using Atomic Energy for Military Purposes Under the Auspices of the United States Government, 1940-1945. It was sold by the Superintendent of Documents. Bob Rochlin, an outstanding public servant who worked at ACDA for many years, gifted me his copy, which cost him thirty-five cents.
The Smyth Report was part history, part elementary physics text, and must reading for all those – foreign nationals included — keenly interested in the Bomb and the extent of U.S. efforts to produce it. Here are some excerpts:
It was conceivable that a few uranium bombs might be decisive in winning the war for the side putting them into use. Such thoughts were very much in the minds of those working in this field, but the attainment of a slow-neutron chain reaction seemed a necessary preliminary step in convincing military authorities and the more skeptical scientists that the whole notion was not a pipe dream.
[snip]
As a result of the labors of the Manhattan District organization … the end of June 1945 finds us expecting from day to day to hear of the explosion of the first atomic bomb devised by man. All the problems are believed to have been solved at least well enough to make a bomb practicable…. Even if the first attempt is relatively ineffective, there is little doubt that later efforts will be highly effective."
[snip]
A weapon has been developed that is potentially destructive beyond the wildest nightmares of the imagination; a weapon so ideally suited to sudden unannounced attack that a country's major cities might be destroyed overnight by an ostensibly friendly power. This weapon has been created not by the devilish inspiration of some warped genius but by the arduous labor of thousands of normal men and women working for the safety of their country.
[snip]
We find ourselves with an explosive which is far from completely perfected. Yet the future possibilities of such explosives are appalling, and their effects on future wars and international affairs are of fundamental importance… In a free country like ours, such questions should be debated by the people and decisions must be made by the people through their elected representatives. This is one reason for the release of this report… The people of the country must be informed if they are to discharge their responsibilities wisely."
Update | 9:18 am 25 January 2011 And I picked mine up at a bookstore in Middlebury, VT for less than a dollar.  You can purchase a shiny new copy (with a preface by Phillip Morrison) from Stanford University Press for closer to $30.00. — Jeffrey