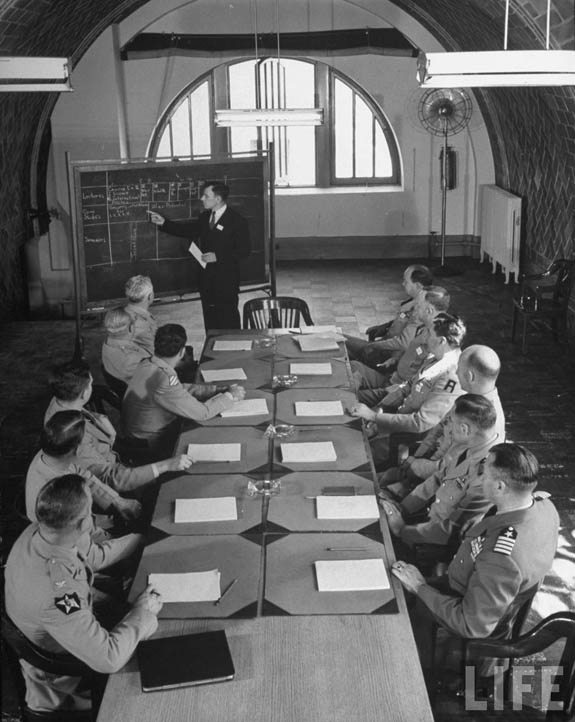 Original Caption: "Professor Bernard Brodie conducting a class." September 1946. Walter Sanders, photographer.
George Santayana managed to have it both ways. He once opined that, "History is a pack of lies about events that never happened told by people who weren't there." And yet Santayana also said, quite famously, "Those who do not remember the past are condemned to repeat it." There's an important lesson here that has nothing to do with history: It helps when others forget your previous opinions.
When debating a person about arms control or deterrence who begins an argument with, "History proves," the following quotes might come in handy. For this post, I've supplemented my shoe box files with material from brainyquote.com.
The phrase "history proves" usually signals poor logic and worse history.

— Bernard Brodie
What is history but a fable agreed upon?

— Napoleon Bonaparte
History tells us only what we want to know.

— Kenneth Waltz
History is more or less bunk.

— Henry Ford
History is at best an imperfect guide to the future, but when imperfectly understood and interpreted, it is a menace to sound judgment.

— Bernard Brodie
The very ink with which history is written is merely fluid prejudice.

— Mark Twain
Historians that write about great powers have great power – if their version of events sticks. Which is why my favorite quote on this subject comes from Winston Churchill:
History will be kind to me for I intend to write it.