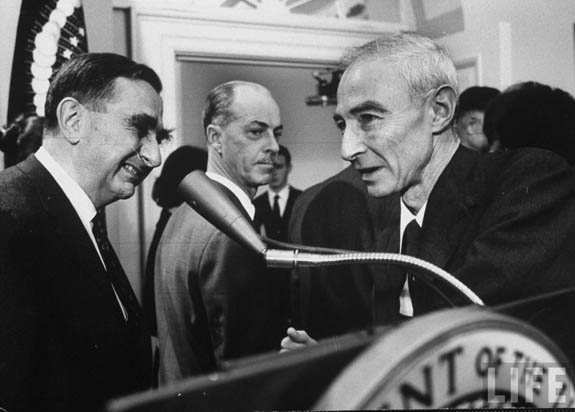 What has been the worst display of wounded egotism, dressed up as a difference over arms control policy? On my scorecard, it's a tie between Teller vs. Oppenheimer and Nitze vs. Warnke.
J. Robert Oppenheimer always had qualms about nuclear weapons. His moral reservations grew appreciably when the Truman administration was contemplating a crash program to produce the "Super" – hydrogen weapons that could make the bombs that destroyed Hiroshima and Nagasaki look puny by comparison. Oppenheimer's opinions mattered greatly, not just within the counsels of government, but also with the public at large. Edward Teller resented Oppenheimer's influence, especially on the Super, which he was drawn to even as those around him during the Manhattan Project were focused on more immediate objectives.
The die was cast for Oppenheimer when he crossed an invisible red line during the General Advisory Committee's deliberations on the H-bomb. The GAC's majority, led by Oppenheimer, advised President Truman against a crash program on moral as well as pragmatic grounds: "If super bombs will work at all, there is no inherent limit in the destructive power that may be attained with them. Therefore a super bomb might become a weapon of genocide." Hans Bethe put it this way in 1950: "What history will remember is not the ideals we were fighting for, but the methods we used to accomplish them."
Oppenheimer, still intent to maintain his influence as a government consultant, proposed boosted fission weapons and a wider panoply of A-bombs as an alternative to the Super. (An eerily similar debate along these lines is now evolving in India.) But his use of the "G" word was fatal, since this critique could apply, by extension, to the entire enterprise of nuclear deterrence.
Teller and others lay in wait for the opportunity to cripple Oppenheimer's influence. That opportunity came when Lewis Strauss, the Chairman of the Atomic Energy Commission, who thought Oppenheimer to be "dangerous" and his proposals "fatal," suspended Oppenheimer's security clearance right before it was due to expire on the grounds that he was a security risk, thereby prompting the accused to fight to clear his name. When Oppenheimer appealed this ruling, a star chamber proceeding was arranged to consider the matter, at which Teller testified.
Paul Warnke's ordeal, in contrast, was in plain view. President Carter nominated him to become the U.S. SALT negotiator and the head of the Arms Control and Disarmament Agency. Warnke's heretical views (see "Apes on a Treadmill" in the Spring 1975 issue of Foreign Policy) made him anathema to the negotiating-from-strength school and its headmaster, Paul Nitze. Warnke's confirmation hearings became the vehicle to impair his effectiveness and narrow the Carter administration's negotiating options. These objectives were implicitly achieved by holding Warnke's confirmation vote below the 67 needed for treaty ratification.
These auto-da-fés were depressingly similar. Here's Teller:
Dr. Oppenheimer… has acted in a way that is for me exceedingly hard to understand. I thoroughly disagreed with him in numerous issues and his actions frankly appeared to me confused and complicated. To this extent I feel that I would like to see the vital interests of this country in hands which I understand better and therefore trust more… If it is a question of wisdom and judgment as demonstrated by actions since 1945, then I would say one would be wiser not to grant clearance.
Nitze testified, with the prodding of Senator Henry "Scoop" Jackson, that Warnke's judgment was "demonstrably unsound." He added,
The head of the Arms Control Agency, I think, is a very important position… The President does rely, and should rely, and I think this Senate is expected to take seriously, the recommendations and positions as the head of ACDA. Therefore, I would have thought that it made a difference as to whether the thoughts of the person who was in that job are reasonably understandable to the Senate and to the public at large.
Nitze's testimony prompted the following exchange with Senator Thomas McIntyre, who was sympathetic to Warnke:
McIntyre: "Are you saying that you impugn [Warnke's] character as an American citizen?"

Nitze: "If you force me to, I do."

McIntyre: "Do you think you are a better American than he is?"

Nitze: "I really do."
Oppenheimer and Warnke were damaged goods after running these gauntlets, while their accusers got what they wanted. Teller went on to become the "father" of the H-bomb and to establish a new weapons lab in Livermore, California. Nitze helped block SALT II and was then rewarded with the negotiating assignments for which he felt he felt ideally suited.