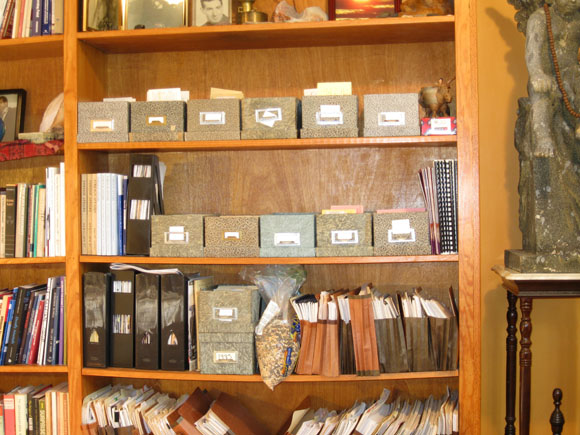 Are the shoe box files metaphorical or real? Given my weak memory and computer skills, they have to be real. But I know that ACW readers are a suspicious lot, so I have asked Jeffrey to accompany this post with a picture of my shoe box collection.
This week's entry comes from my 4X6 cards on deterrence and strategic sufficiency. The Obama administration is now in the process of defining this term and attaching numbers to it. But when the enterprise called arms control first took shape, strategic superiority, not sufficiency, was a talking point. The Kennedy administration, for example, argued that by supporting the Limited Test Ban Treaty, Senators would be affirming U.S. strategic superiority.
The Nixon administration could not use this argument when it was about to negotiate limits on strategic offenses and missile defenses. The Soviet Union was engaged in a significant buildup, and neither superpower could acquiesce to the other's strategic superiority. One precondition for success in the upcoming strategic arms limitation talks was, therefore, that both superpowers accept the notion of parity and disavow the objective of strategic superiority. But definitions of parity would become highly contentious and the nominal acceptance of parity certainly did not preclude advantageous moves. The SALT negotiations were therefore repeatedly bedeviled by fears in Washington and Moscow of falling behind in the strategic competition. (Raymond Garthoff wrote the definitive account of these negotiations — Détente and Confrontation — which aspiring wonks are required to plow through. Lawrence Freedman's The Evolution of Nuclear Strategy is also required reading.)
NSDM 16, Criteria for Strategic Sufficiency issued on June 24, 1969, laid out the Nixon's administration's planning requirements for strategic sufficiency in the following way:
1. Maintain high confidence that our second strike capability is sufficient to deter an all-out surprise attack on our strategic forces.
2. Maintain forces to insure that the Soviet Union would have no incentive to strike the United States first in a crisis.
3. Maintain the capability to deny to the Soviet Union the ability to cause significantly more deaths and industrial damage in the United States in a nuclear war than they themselves would suffer.
4. Deploy defenses which limit damage from small attacks or accidental launches to a low level.
In February 1971, President Nixon provided the public rationale for his administration's pursuit of strategic sufficiency:
In its narrow military sense, it means enough force to inflict a level of damage on a potential aggressor sufficient to deter him from attacking… In its broader political sense, sufficiency means the maintenance of forces adequate to prevent us and our allies from being coerced.
When asked about strategic sufficiency, David Packard, who served as Deputy Secretary of Defense in the Nixon administration, candidly responded, "It's a good word to use in a speech. Beyond that, it doesn't mean a God-damned thing."
Some of my other favorite one-liners about deterrence and sufficiency follow.
[Deterrence] does not depend on whether we can defeat Russia; to be successful it need only prevent the Russians from expecting to defeat us.

Arnold Wolfers
When dealing with the absolute weapon, arguments based on relative advantage lose their point."

William T.R. Fox
There is not much solace in raising the enemy's requirements if he is still able to meet them.

Bernard Brodie
While a triad ought to lead to fewer total weapons than either a dyad or a single system, instead it seems to lead to three times as many."

Herbert York
What is the sense in developing a weapon that can destroy a city twice over?"

Henry Kissinger
I have difficulty with the idea that deterrence of nuclear war somehow is improved by increasing the ability to fight a nuclear war.

Paul Warnke
I vaguely remember another quote from Arleigh Burke, to the effect that gunslingers in the wild west did not walk around with three six shooters; two were sufficient. But I can't find it in my shoe boxes. If anyone out there can find the exact quote, please post it. Other one-liners on sufficiency are hereby solicited.