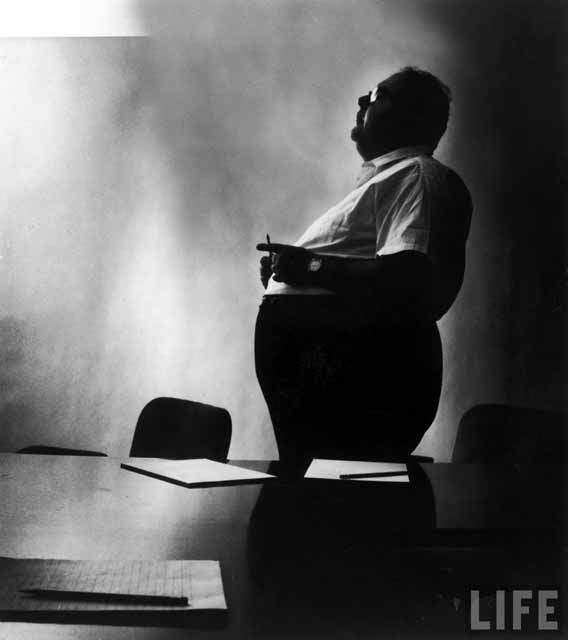 Herman Kahn has a favored place in my shoe box collection because he followed his logic train to territory where other deterrence strategists feared to tread. Kahn was plus-sized (above), utterly confident, and easily caricatured. A sense of the man's mind can be found in the preface of one of his important books, On Escalation, Metaphors and Scenarios (1965), which was written, he writes, to "create propaedeutic and heuristic methodologies and frameworks." For the sake of our youth, I sincerely hope that the word propaedeutic is never used during a national spelling bee. Readers of lesser intelligence are instructed that this word "pertains to introductory instruction, although there is no suggestion of the elementary."
In schooling us in the intricacies and logic of nuclear war fighting, Kahn identified eight factors that governed the degree of escalation one might expect in a crisis or war:
1) Apparent closeness to all-out war
2) Likelihood of eruption
3) Provocation
4) Precedents broken
5) Committal (resolve and/or recklessness) demonstrated
6) Damage done or being done
7) Effort (scale, scope, or intensity of violence)
8) Threat intended or perceived
Go ahead and mock the man, but try your hand at compiling a better list.
Kahn argued that there were "two traditional American biases: an unwillingness to initiate the use of moderate levels of force for limited objectives, and a too-great willingness, once committed, to use extravagant and uncontrolled force." Neither trait, he warned, would serve the United States well in the serious business of dealing with Cold War dangers. Where Kahn lost most of his audience was in the particulars, to which his agile mind was his particularly drawn. Kahn's escalation ladder – "a generalized (or abstract) scenario" – included no less than forty-four rungs.
The Cold War literature on escalation, as exemplified by Herman Kahn, was deeply flawed. It rested heavily on rational choice, which might well be in short supply if the nuclear threshold were crossed. This literature, as well as U.S. plans for the employment of nuclear weapons, also presumed that Soviet nuclear war fighters would respect rungs on Kahn's escalation ladder. This key assumption, as we learned after the Cold War ended, was badly mistaken.