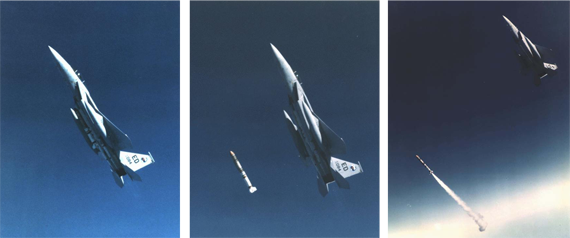 The last serious debate over ASAT testing occurred in the 1980s. In addition to advocating the Strategic Defense Initiative, Reagan administration officials pushed for the testing of a kinetic energy ASAT system employing the Air Force's F-15 as a launch vehicle (above). The Soviet Union had previously tested, with decidedly mixed results, a co-orbital interceptor designed to kill satellites in low earth orbit with buckshot-like effects.
The Pentagon carried out a KE-ASAT test against an aging U.S. meteorological satellite on October 13, 1985. Members of Congress disinclined to fund further ASAT tests employed a variety of blocking methods, including legislative provisions calling for the consideration of diplomatic initiatives, which the Reagan administration parried in the following way:
In general terms, the United States remains willing to consider limitations on specific weapon systems, including ASATs, which meet the requirements accepted by the Congress in 1984: that they be equitable, verifiable, and compatible with US national security. In the case of ASATs, however, we have yet to identify a specific proposal which would meet these criteria.
Alternative views on the value of ASAT testing constraints filled one of my shoe boxes in the 1980s. Paul Stares, then at Brookings, wrote a fine book, Space and National Security (1987) in which he argued that,
The principal benefit of an arms control agreement would be to prevent transforming what is still a relatively immature threat to one that is altogether more formidable and more difficult to counter unilaterally. Given the problem of monitoring the dismantlement of existing systems, test restrictions provide the most useful approach to constraining the evolution of more sophisticated ASAT weapons.
Daedalus published two volumes on space weapons in 1985, including an essay by Kurt Gottfried and Richard Ned Lebow, warning that, "ASATs could both increase the likelihood of war and complicate its termination." Their prescription, like that of Stares, was the prevention of the development of new, highly capable ASAT systems through a test ban. Former Secretary of Defense Harold Brown, writing in Arms Control Today, also supported a ban on further ASAT testing "so far as verification can support such a ban."
More creative thinking came from a high-powered commission co-chaired by Fred Ikle and Albert Wohlstetter. Their 1988 report, Discriminate Deterrence, included the following recommendation:
Exploration of a possible tacit understanding or even explicit agreement with the Soviets on self-defense zones around many of the satellites… Such an arrangement might permit some entries into the self-defense zones and would not affect normal, non-threatening satellite operations, including perhaps some inspections.
A verifiable KE-ASAT test ban in the 1980s would have met US national security requirements, but few could foresee back then how much of a threat debris would pose to satellites essential for personal, national, economic, and international security. A clear glimpse of this unwelcome future was provided fourteen years after the Reagan administration's F-15 ASAT test, when one piece of debris from the shattered target satellite came within one mile of crashing into the newly launched international space station.
If there were any lingering doubts about the sheer irresponsibility of causing massive debris fields by means of KE-ASAT tests, the PLA dispelled them in January 2007.