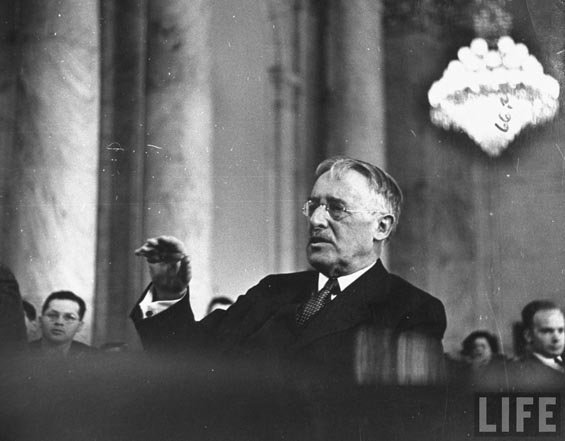 As we now contemplate how to deal most effectively with the nuclear programs in North Korea and Iran, it may be worth remembering how hard it was for U.S. officials to devise policies for the Soviet Union after World War II ended. The surprise unveiling of the Bomb meant that an unprecedented level of cooperation would be required to reduce and eliminate nuclear dangers. But the Kremlin was led by a ruthless and paranoid leader, Josef Stalin, who was utterly untrustworthy. Here's what Henry L. Stimson, Secretary of War for Presidents FDR and Truman, advised in a Foreign Affairs article published in 1947 (The Challenge to Americans):
We do not yet know surely in what proportion unreasonable fears and twisted hopes are at the root of the perverted policy now followed by the Kremlin. Assuming both to be involved, we must disarm the fears and disappoint the hopes.
My all-time favorite Stimson quote, which appeared in his autobiography, On Active Service in Peace and War, is:
The man who tries to work for the good, believing in its eventual victory, while he may suffer setback and even disaster, will never know defeat. The only deadly sin I know is cynicism.