With Olli Heinonen's resignation as IAEA Deputy Director General for Safeguards, questions are naturally turning to "Why did he leave?" and "Who will replace him?"
I think the answers are: Because it was time for him to move on, and I have no idea. But there is a little more that can be said, if only to start a discussion in the comments thread.
Why Did He Leave?
There are some rumors about disagreements with Amano, but I've talked to a few people and the general consensus seems to be that Olli was ready to move on, and the sinecure at Harvard was some time in planning. (He gave a lecture in September 2009, which is usually a sign someone is looking at moving. That's a little tip, from a former employee.) His wife is, apparently, a Singapore diplomat. Perhaps she was ready to move someplace other than Vienna.
Heinonen has been at the IAEA since 1983 and served as DDG for Safeguards since 2005. It was time.
Moreover, I would be very surprised if the IAEA was excited about loosing Olli on the world. Indeed, Heinonen at Harvard is a potential nightmare for the VIC. He knows where all the bodies are buried, so to speak. He was point on Safeguards for all the interesting developments on Iran, Syria, Myanmar and one or two other places. Amano and the rest of the IAEA has to be terrified about what he can say now, that he couldn't a few months ago. Which is to say, having Heinonen in Cambridge is a huge bonus for civil society.
Who's Next?
Reuters reports that Herman Nackaerts — currently head of Safeguards Operations Division B (SGOB), Heinonen's old job — is angling for promotion.
Historically, the IAEA has not appointed DDGs for Safeguards from within the VIC — Heinonen was unusual in this regard. A more typical route to the top is to come from outside, usually from industry.
The job of a DDG for Safeguards is very different today. The emphasis today is much less on verifying anticipated compliance and much more on resolving outstanding issues of noncompliance, whether we are talking about hard cases like Iran and North Korea, or more ambiguous situations with Egypt and South Korea.
Another candidate being mentioned is James Casterton, Director of the International Safeguards Division of the Canadian Nuclear Safety Commission and Chair of the IAEA Director-General's Standing Advisory Group on Safeguards Implementation.
Other candidates may emerge, but I doubt the wrangling will be very public. This is hardly going to be Wrestlemania, though that would be awesome.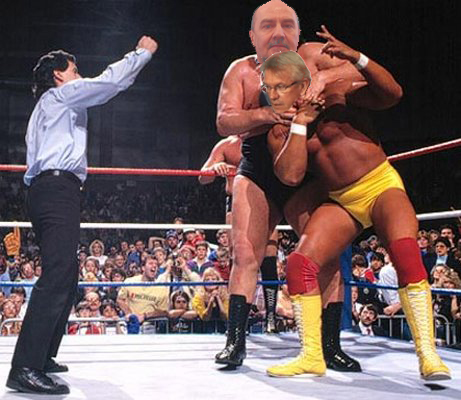 Safeguards, Past and Present
I often get annoyed when I hear the IAEA Director-General called the world's "top nuclear inspector" — after all, the top inspector is really the Deputy for Safeguards. I looked around for a list of those who've held the job, but couldn't find one.
I said to Mrs. Wonk, "Can you believe there is no decent online list of previous DDGs for Safeguards?"
"No," she deadpanned, her voice dripping with sarcasm.
Well, in any event, the Reliable Replacement Wonk was napping, so I took some time this afternoon to read about the history of the job and the go through the UN Yearbooks to create a tentative list of DDGS for Safeguards.
Roger Smith, of Canada, led a safeguards division at the IAEA from 1958-1960, but he wasn't a Deputy Director-General. (See, Fischer, History of the IAEA.)
Allan McKnight, of Australia, is usually described as the "first Inspector-General" of the IAEA. You can see a late 60s shot of McKnight on a very cordial inspection of a British nuclear power station.
By the way, how rad is the title Inspector-General? Schiff, in International Nuclear Technology Transfer (terrible title, great book) claims that the IAEA eliminated the "Inspector General" title as McKnight's successor, Rudolf Rometsch, neared retirement. Rometsch, Schiff explains, had become a bit imperious and Sigvard Eklund, then IAEA Director-General, wanted to reduce the status of the job to the level of other division heads. (Schiff uses passive voice, avoiding attributing the motive to anyone in particular.)
Anyway, here is a list, as best I can tell, of the men (and they are all men) who served as the "top nuclear watchdog" for the IAEA. Comments and corrections are welcome.
Term
Name
Nationality
Previous Position
1964—1968
Allan D. McKnight
Australia
Chairman,

IAEA

Committee of the Whole
1968—1977
Rudolf Rometsch
Switzerland
Director-General

EURODIF

1978—1983
Hans Gruemm
Austria
Director, Österreichischen Studiengesellschaft für Atomenergie Ges.m.b.H. (Seibersdorf)
1984—1985
Peter Tempus
Switzerland
Senior Advisor, Board of Federal Institute of Technology
1986—1992
Jon Jennekens
Canada
President and

CEO

, Atomic Energy Control Board (

AECB

) of Canada
1992—1999
Bruno Pellaud
Switzerland
Head of a nuclear department for a Swiss engineering company
1999—2005
Pierre Goldschmidt
Belgium
Director General,

SYNATOM

2005—2010
Olli Heinonen
Finland
Director,

SGOB
Source: UN Yearbook