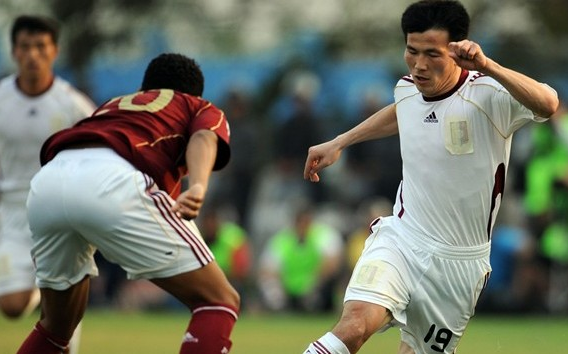 Footballer Grenddy Perozo (L), of the Venezuelan national squad, marks An Chol Myok of North Korea during a friendly match held in San Felipe-Yaracuy, some 300 km from Caracas, on March 4, 2010. The Match ended 1-1. AFP PHOTO/Juan Barreto
Because nothing involving North Korea is ever easy.
North Korea, which qualified for the World Cup in South Africa, met Venezuela in a friendly, but didn't manage to bring along uniforms and just generally acted like North Koreans:
As part of preparations for its first World Cup appearance in 44 years, North Korea was in Venezuela on Thursday for a friendly. The match ended in a 1-1 tie. But with the North Koreans, it's never that cut and dried. According to reports in Venezuela, the Koreans lost their uniforms at some point and had to borrow replacement kits from the Venezuelans. Because of the intense heat, the Koreans refused to start on time, a delay that resulted in the match being stopped 10 minutes early because the field in San Felipe didn't have lights. The teams will play again Saturday in Puerto la Cruz. (A game against Chile was canceled because of the earthquake.) Why do I have a feeling we're going to hear many more wacky tales from North Korean camp over the next few months?
As you can see from the image, the DPRK team had to play with tape over the Venezuelan crest on the borrowed kit.
Apparently the jerseys arrived for the second game, which Venezuela won 2-1.