Credit: Otto Stokes
Within the community, we have been going back and forth on whether the United States is still present at Russia's Votkinsk Machine Building Plant.
As far as I can tell, the US still staffs the Votkinsk Portal Monitoring Facility, which basically allows the United States to count mobile missiles leaving the Votkinsk facility. (The purpose of monitoring production is to provide some confidence that the other side isn't attempting to break out of the treaty by building missiles that are, by design, very hard to find.)
The most recent news reference I can find is in 2006, when the Yekaterinaburg Counsel-General made a visit. (Wow, talk about a hardship post.) Votkinsk was included under both INF and START treaties. It seems likely we stopped perimeter monitoring when INF inspection regime ended in 2001. Please, dear readers, feel free to fill in the details.
None of this should obscure the really important point: There is a Facebook Group for the Votkinsk Portal Monitoring Facility.
Oh. Hell. Yes.
God help us if we ever manage to stand up JDEC. All humor aside, the site has great images. And, best all, there is an image of the portal gates: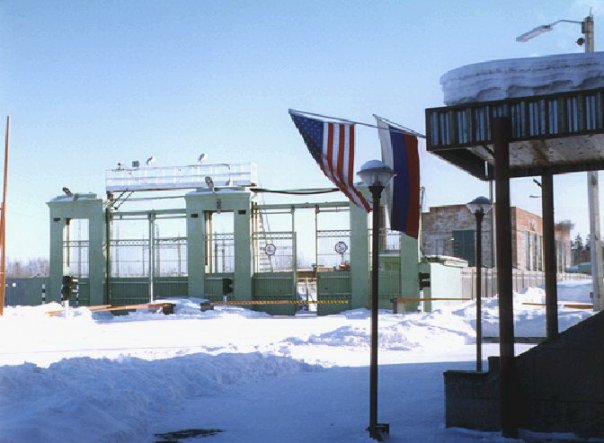 Credit: Otto Stokes
The caption reads: Portal Gates, I didn't take this one, but was told it was from a long time ago and was approved, note whats missing (photoshop from their side I assume).
I am not sure what the Russians may have ps'd out — which reminds me how much I loved The Commissar Vanishes. You can, however, see the several structures behind the portal gates in Google Earth. I am pretty sure this is the site; it is amazing how clearly you can see the three structures that hold the two gates in the satellite photograph.
Update | 12:26 November 13, 2008 We have a lot of discussion of about whether perimeter monitoring is still going on in the comments.