This is a joint post by Jeffrey Lewis, Flynt Leverett, and Hillary Mann Leverett. This post is cross-posted at Flynt and Hillary's blog, Race for Iran
Bloomberg's Jonathan Tirone has a story today revealing that Iran has dramatically expanded operations at its Gchine uranium mine. Tirone worked closely with Jeffrey Lewis at the New America Foundation, as well as other nuclear experts, to analyze satellite photographs of the Gchine mine.
We believe that it is important to place this development in a larger context: what does Tirone's story say about Iran's nuclear program, and what are its implications for diplomatic efforts to deal with the Iranian nuclear issue? The bottom line is that Iran appears to be developing a significant indigenous source of uranium—a source that, while nowhere near what the Islamic Republic would need to fuel a civil nuclear power program, is relatively large compared to the requirements of a nuclear weapons program. This development provides additional confirmation for the argument that the diplomatic pursuit of "zero enrichment" in Iran is folly. The objective of nuclear diplomacy with Tehran should be to improve the international community's ability to monitor Iran's nuclear activities.
First, what does this story say about Iran's nuclear program?
Currently, the Bandar Abbas Uranium Production Plant (BUP) is Iran's only indigenous source of uranium yellowcake, processed from uranium ore mined from the Gchine salt plug. Neither the Gchine mine nor the BUP is covered by Iran's safeguards agreement with the International Atomic Energy Agency (IAEA). It would be covered under the Additional Protocol to the Nuclear Non-Prolfieration Treaty, which Iran has signed but not
ratified — which means that Tehran is not legally bound by the terms of the Additional Protocol.
Although the mine and the BUP have a declared capacity of 21 tons of uranium yellowcake a year, Iran has operated the facility at much lower levels of production. This now appears to be changing. The most striking finding in the satellite photographs, taken in April 2009 and October 2009, is that Iran has dug a much, much larger tailing pond (where leftover ore is dumped after technicians remove the uranium) after having filled the smaller pond dug in 2005. This suggests that Iran is moving toward operating the mine at its stated design capacity.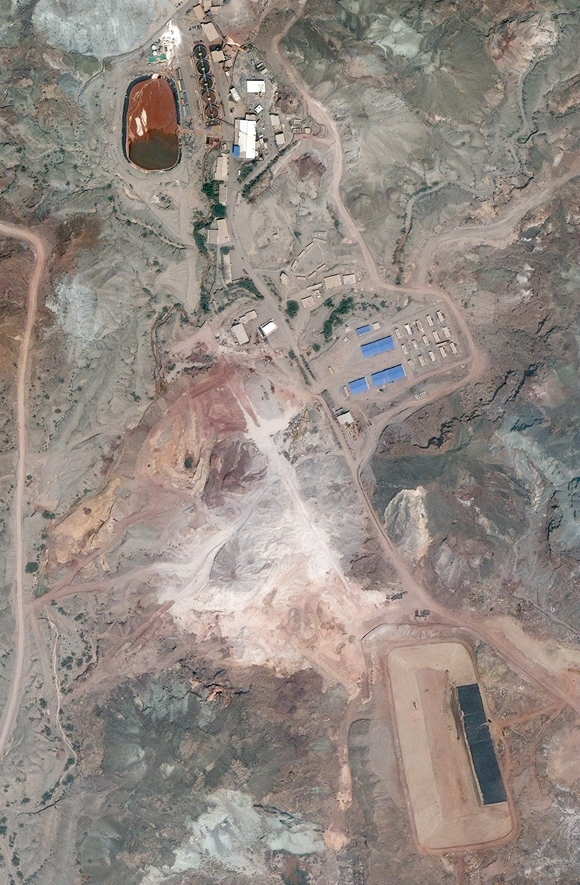 Bandar Abbas Uranium Production Plant, April 26, 2009. Credit: DigitalGlobe Inc.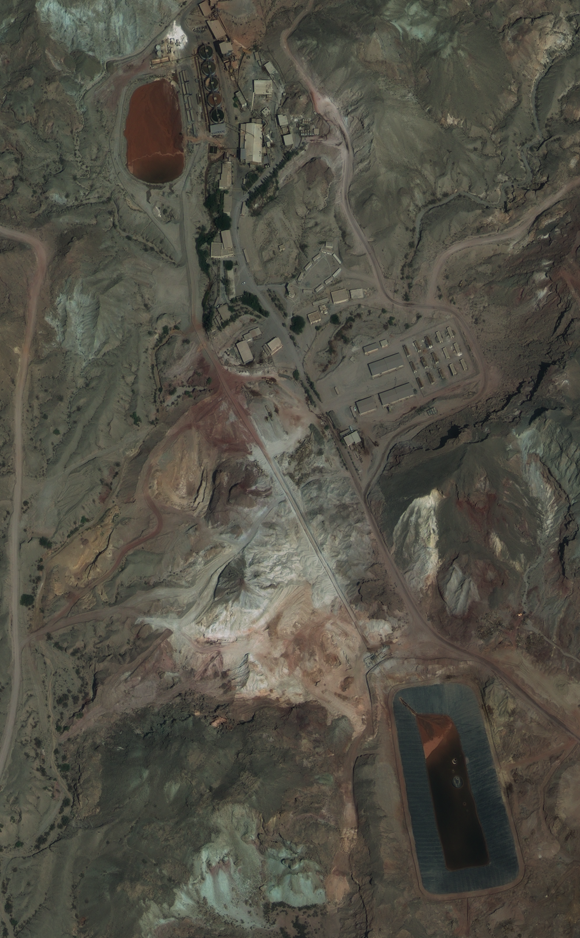 Bandar Abbas Uranium Production Plant, October 3, 2009. Credit: GeoEye Inc.
And that means the Islamic Republic is well on its way toward having a large, indigenously produced and unsafeguarded stockpile of yellowcake that could be converted into uranium hexafluoride and fed into centrifuges at Natanz, Qom, or some other facility we do not yet know about.
Second, what does this story mean for diplomatic efforts to deal with the Iranian nuclear issue?
Some observers have long suspected that Iran originally intended to use the Gchine mine as part of a clandestine nuclear weapons program. Former IAEA Deputy-Director General for Safeguards Pierre Goldschmidt publicly questioned "why the work on the very promising Gchine project was suspended by the Atomic Energy Organization of Iran from 1994 to 2000 to focus on a mush less promising ore deposit at Saghand." The implication is that the mine was not abandoned, but rather was part of a covert weapons program. U.S. intelligence suspects that Kimia Madaan, the Iranian firm responsible for development of the mine during fallow period in the 1990s, was linked to a covert weaponization program.
All of this, however, is water under the bridge. The Gchine mine is now part of Iran's declared civil nuclear program. But it has not been under IAEA safeguards since Iran stopped its voluntary compliance with the Additional Protocol, which obligated Tehran to provide basic information about operations at Gchine and allow IAEA inspectors access to the mine.
Yellowcake produced from Gchine must be converted into uranium hexafluoriade at Isfahan before it can be enriched at Natanz or some other site like the recently revealed facility at Qom. However, Iran is now developing a large source of uranium that could be used in covert enrichment facilities that wo do not know about. As a result, focusing on the number of centrifuges installed and running at Natanz is a fool's errand. For one thing, the Iranians will not agree at this point to give up their indigenous enrichment capability or accept strict quantitative limits on their centrifuge infrastructure. But, even if the Iranians agreed to shut down Natanz, without additional monitoring the international community would not be able to verify the absence of a covert program.
Dealing with those risks would require a comprehensive monitoring arrangement that would safeguard Iran's nuclear program from the moment that uranium ore came out of the ground at Gchine through the entire fuel cycle. The most feasible way to establish such a monitoring arrangement would start with Iranian ratification and implementation of the Additional Protocol—a non-country-specific international instrument that would not single out the Islamic Republic for "special" (and, in Iranian eyes, discriminatory) treatment.
Iranian officials have said that they are open to ratification and implementation of the Additional Protocol, under the right circumstances. Those circumstances almost certainly include a strategic understanding with the United States about Washington's willingness to accept and live with the Islamic Republic.
Beyond dropping its futile and ultimately counter-productive focus on "zero enrichment," the Obama Administration needs to incorporate into its approach to the nuclear issue an acute awareness that nuclear diplomacy with Tehran must be embedded in a broader strategic conversation between the United States and the Islamic Republic. Over the long term, the United States and its allies should work with Iran to establish more intrusive monitoring arrangments, in the context of strategic rapprochment between the United States and the Islamic Republic.