A lot of negative descriptions come to mind when I think of Arizona Senator Jon Kyl. Stupid, however, is not one of them.
He is a formidable opponent to be feared, as suggested by his recent op-ed in the Wall Street Journal on the need to resume yield testing of nuclear weapons.
I believe the best argument for convincing skeptics to support ratification of the CTBT is that the United States is now permanently out of the testing business. The United States will never again test a nuclear weapon, in which case other countries should be similarly constrained. "A bad idea," one skeptic-turned-supporter wrly admitted, "whose time has come."
Kyl — a stone-cold opponent of arms control — seems to recognize the danger of losing the debate about testing, and takes the claim head-on in a Wall Street Journal op-ed entitled, "Why We Need to Test Nuclear Weapons":
There were concerns a decade ago that the U.S. might be unable to safely and reliably maintain its own nuclear deterrent—and the nuclear umbrella that protects our allies such as Japan, Australia and South Korea —if it forever surrendered the right to test its weapons. Those concerns over aging and reliability have only grown. Last year, Paul Robinson, chairman emeritus of Sandia National Laboratory, testified before Congress that the reliability of U.S. nuclear weapons still cannot be guaranteed without testing them, despite more than a decade of investments in technological advancements.
Now, let's be clear: It is just not true that "Concerns over aging and reliability have only grown."
Maybe Paul Robinson's concerns have grown, though he was against the treaty in 1999 as well. I'd say his concerns have been pretty constant, unless he's gone off some meds lately.
Everybody else, however, has fewer concerns today than in 1999. Robinson was one of three laboratory directors, along with Bruce Tarter and John Browne, who helped damn the CTBT with faint praise in 1999. Today, Tarter and Browne sound like supporters of the treaty. (Oddly, Robinson was director in 1999 of the one laboratory — Sandia — that makes non-nuclear components the United States is not prohibited from testing under the CTBT).
In other words, our confidence in the stockpile is increasing. What were plausible arguments in 1999 seem much less so today. Richard Garwin, who knows one or two things about nuclear weapons, has argued that we are now experiencing increasing confidence in a stockpile of tested designs:
These are very modest goals in contrast to the frequently heard need to replace warheads about whose reliability and safety there is "increasing concern." This concern is usually expanded to argue that, with the accumulation of small modifications to existing warheads in the Life Extension Programs (LEPs), we move farther from the nuclear explosion test base, and at some point, the warheads will no longer be certifiable …

[snip]

I disagree. The NNSA's $5-billion-per-year science-based Stockpile Stewardship Program (SSP) may be essential in providing the foundation for the labs to design an RRW that might indeed be certifiable without nuclear testing, but that same program has provided the basis over time for increasing, not decreasing, confidence in the performance of these legacy weapons.

A key milestone in this regard occurred in late 2006. Until then, the Bush administration had based its case for the RRW program in large measure on the argument that the United States was incapable of remanufacturing plutonium pits, the core of the primary nuclear explosive in U.S. thermonuclear weapons. The NNSA argued that it would be better to start anew with something that could reasonably be traced to a nuclear test explosion but that would give expanded freedom of design in view of a post-Cold War assumption of relaxed requirements on warhead weight and yield.

Yet, in late 2006, the SSP led to the judgment by Livermore and Los Alamos that the plutonium pit in each of our stockpile nuclear weapons has a life exceeding 85 years, perhaps 100 years. This conclusion was endorsed by a technical study by JASON and was published by the NNSA.

[Emphasis mine]
This is not to say there aren't concerns over aging and reliability. But, thanks to Stockpile Stewardship Program, the laboratories are in a much better position to spot and fix problems today than they were during the era of nuclear testing.
Paul Robinson has every right to his opinion, but he's outside the mainstream consensus.
Politics of Testing
It is good that the United States does not need to yield test nuclear weapons because, as a practical matter, no President or Congress will find the political will to do so.
It is no accident that the Bush Administration, which expressed a visceral hostility to the test ban, nevertheless proposed two new nuclear weapons on the promise that each could be deployed without resort to testing. Even those proposals — the Robust Nuclear Earth Penetrator and the Reliable Replacement Warhead — got a pretty rough reception in a then-Republican Congress.
You may recall the ferocious opposition to Divine Strake — a DTRA-funded conventional explosion at the Nevada Test Site to model an earth penetrating nuclear warhead. DTRA canceled the experiment.
As Las Vegas has sprawled toward the Nevada Test Site, there is no chance that any politician in Nevada or neighboring Utah will permit the United States to resume yield testing at NTS. Zero, none, nada, zip. Like Yucca Mountain, but times 10. This is what then-Utah Governor John Huntsman looked like during a hearing on Divine Strake:
Hunstman later said he was jubilant at the decision to cancel the experiment. And Republicans considered him Presidential timber, before he agreed to serve as Ambassador to China.
Hell, even the Nevada Test Site — encouraged by Senators Reid and Ensign — has decided it is time for a new name that doesn't include the word "test".
That sort of says it all, doesn't it?
A Modest Proposal
Having said all this, I think the United States should have the option of testing in extremis. Although I didn't support raising test site readiness at NTS, I do think we need a credible option to resume yield testing in the event of a catastrophic problem in the Stockpile Stewardship program and a dramatic, adverse change in the geopolitical environment.
Unfortunately, that means we need to move the Nevada Test Site — efforts to find suitable locations for Divine Strake in New Mexico and Indiana were not encouraging. Where to go? I haven't a clue.
So, let me, in the spirit of compromise, suggest that DOE fund a study on relocating the Nevada Test Site to one of three sites, including at least one site in Arizona.
After all, there is only one American politician with the patriotism and courage to defend to his constituents the need to resume yield testing in their backyard: Senator Jon Kyl.
The Nevada Test Site was selected in 1950 before the era of underground testing and thermonuclear weapons. Although the site turned out to have some very fortuitous geologic features, perhaps it is time to green-field a new test site based on the past sixty years of testing experience. Plus, as Joe Cirincione and I discovered, Sedona is lovely this time of year.
If the Department of Energy were to select a site in Arizona, we would certainly want to name the Arizona Test Site after Senator Kyl — although that might have to wait until he retires from the Senate or loses his reelection bid. Until then, we could call new site something patriotic like the "Freedom Test Site" so that when residents in Phoenix complain about tremors, Senator Kyl can explain to his constituents "That's what freedom feels like."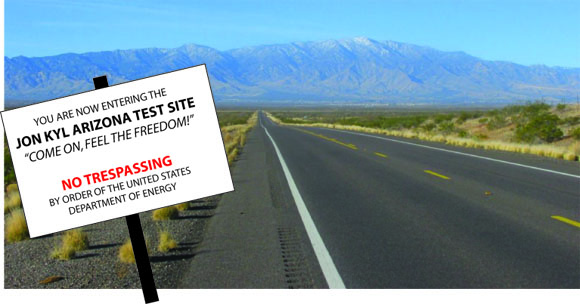 Calling for a resumption of testing in a Wall Street Journal op-ed is nothing for a man of Senator Kyl's conviction. I can't wait for the op-ed in the Arizona Republic.