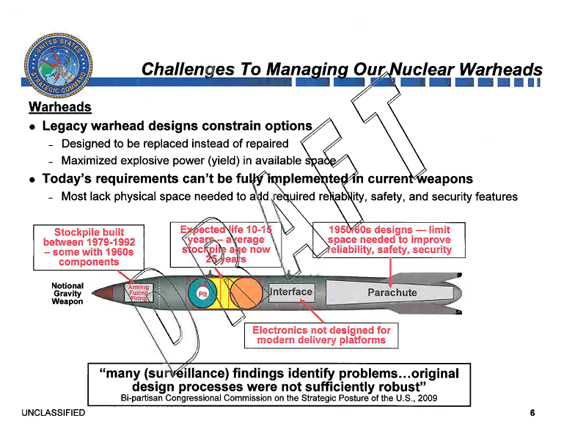 You may recall the little spring dust-up that Kingston Reif and I had with STRATCOM Commander General Kevin P. Chilton over whether he should be running around with a vacuum tube in his pocket to make the case for warhead replacement.
We pointed out in the Bulletin of Atomic Scientists that vacuum tubes are used only in some older mods of one design (the B61) in the radar-fuse. Arming, Fuzing and Firing (AF&F) systems can be, and are routinely, replaced without replacing the Nuclear Explosive Package (aka "physics package"). In other other words, vacuum tubes had nothing to do with the WR1, which would have replaced the NEP in an entirely different warhead. We had some constructive suggestions about what Chilton might do with his little prop.
Chilton, however, wouldn't let it go. Chilton told GSN's Elaine Grossman that we were "confused," but declined to clarify. Dick Garwin told Grossman that General Chilton was "really obfuscating and making things more difficult."
That was were the story ended in May 2009.
Now, the Administration is gearing up to replace the B61 with something between Life Extension and the RRW — what I like to call the FrankenLEP. Bill Gertz reported — and I use the term lightly — that General Chilton is going to be heading to Hill to lobby for B61 FrankenLEP.
So, the big question is, will Chilton take his little vacuum tube to Capitol Hill? At least this time he has the right class of warheads.
It is always hard to predict what Chilton will say, though someone gave Gertz some draft STRATCOM slides, which he implies but does not state, are the basis for Chilton's briefings to the Hill. The presentation contains the slide featured atop this post, which revisits the issue of the vacuum tubes, if obliquely.
As you can see above, the slide notes that the "Stockpile [was] built between 1979-1992 — some with 1960s components." "Some with 1960s components" refers to vacuum tubes — as in "My father used to take these out of the television set in the 1950s and '60s down to the local supermarket to test them and replace them." The arrow points to — not surprisingly — the Arming, Fuzing & Firing system.
So, turns out, K-Reif and I were right. The United States can replace the vacuum tubes without replacing the physics package. Guess Kingston and I will be getting handwritten apologies from General Chilton. I won't hold my breath.
Of course, we knew we were correct because we got the information from the horse's mouth — Sandia National Laboratories, which makes the AF&F system. As for which end of the horse is General Chilton, well, I will leave that for you to ponder.