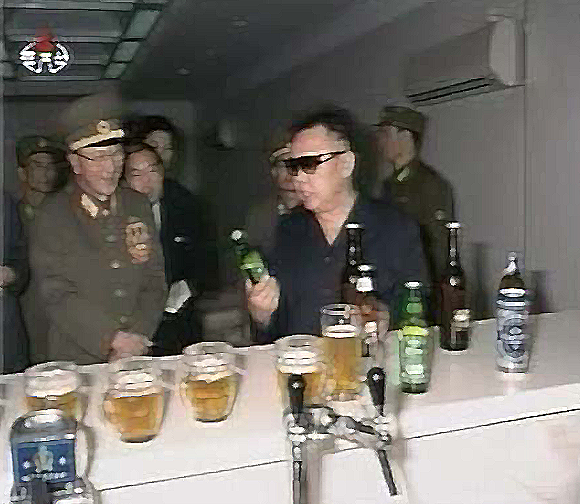 Dan Pinkston pointed out this gem from KCNA:
Taedonggang Beer

Pyongyang, June 25 (KCNA) — The beers including black beer and rice beer made by the Taedonggang Beer Factory are these days popular with the Pyongyang citizens.

Beer houses are crowed with working people who look pleased with their successes in the current 150-day campaign.

It was Juche 91 (2002) that the just built Taedonggang Beer Factory began supplying beer to the citizens.

The cold and soft Taedonggang beer rich in gas content immediately came into great favor among the customers by catering to their tastes.

Its fermentation degree is 77.5 percent.

The beer houses distributed rationally in residential quarters regularly serve beer carried to them directly from the factory.

The refrigerator vans carrying beer have a traffic privilege on the streets of Pyongyang like cars carrying soybean milk to children.

The citizens call Taedonggang beer "cold yet warm beer" as it is associated with the warm care of General Secretary Kim Jong Il for the people.