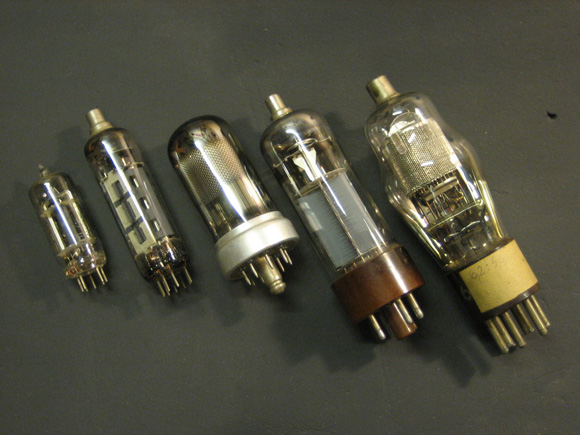 A cool collection of vacuum tubes.
So, you know how General Kevin Chilton, STRATCOM Commander, and others have been making to case for the "Reliable Replacement Warhead" by arguing that we must replace the vacuum tubes (more) remaining in the nuclear stockpile?
Kingston Reif and I discovered and explain in the Bulletin of the Atomic Scientists that is a load of crap.
Firstly, vacuum tubes are not used in the physics package of a single nuclear weapon design. Vacuum tubes are used only in the radar-fuse, which tells the firing system when the bomb is at the correct altitude for detonation, in some modifications (mods) of one warhead design, the B61 gravity bomb. In total, the B61 bombs that have vacuum tubes in their radar-fuses account for only about one in ten operationally deployed warheads. (Vacuum tubes are used in the radars of three B61 mods: 3, 4, and 7. Mods 10 and 11 have newer radars that use solid-state electronics.) The fuses in these weapons are old, but perfectly functional. To reiterate, vacuum tubes are not in use in any other warhead design, including the W76 warhead, a portion of which would be replaced by the first RRW warhead, the WR1, if it ever were funded and developed.

Secondly, the Energy Department has routinely replaced radars without nuclear testing or redesigning the physics package. In fact, during the 1990s, Sandia National Laboratories scientists developed the MC4033 common radar, which uses solid-state electronics, for planned refurbishments of the B61 and B83 gravity bombs. All B83 bombs now use the common radar, though similar plans to fit a new radar on all B61s have been repeatedly deferred.
Vacuum tubes are used only in some older mods of one design (the B61) in … wait for it … the radar-fuse! Vacuum tubes are not used for any other purpose or in any other design. They are not used in the physics package.
The implication is that radar fuses can — and are — routinely replaced without yield testing or redesigning the physics package. In other words, vacuum tubes have jack-taco to do with the RRW.