At the end of an article about the National Academies glossary project, Lionel Beehner in SEED Magazine mentions the trouble that beset the translation of my book into Chinese:
That means translation will likely remain a sensitive and sometimes contentious subject in US-China relations, especially in matters of science. Take American nuclear expert Jeffrey Lewis's 2007 book, The Minimum Means of Reprisal —  a title lifted from a Chinese official's description of his government's nuclear stance. When the book was translated into Chinese, its title became The Minimum Means of Revenge.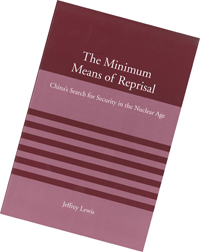 The story is true — although my Chinese is lousy, Gregory Kulacki pointed it out to me. (I was honored that the China Academy of Engineering Physics thought the book worth translating.)
The title comes from Marshal Nie Rongzhen, who explained his support for developing ballistic missiles and nuclear weapons in his memoir with the phrase: "有起码的还击手段."
Beijing Review, which published excerpts of Nie's memoir, and New World Press, which published an English-language version, made very different decisions about how to translate Nie's phrase.
Beijing Review, in an article titled "How China Develops Its Nuclear Weapons" (April 29, 1985) , translated the phrase as "at least then, we could effectively counterattack." New World Press, in an edition called Inside the Red Star: The Memoirs of Marshal Nie Rongzhen (1988, trans. Zhong Renyi), chose "we would have the minimum means of reprisal".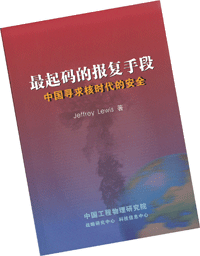 I preferred the more literal "minimum means of reprisal" because the phrase is sonorous and describes the Chinese posture without using "deterrence" (威慑).
The word for deterrence, in Chinese, which carries a much stronger sense of "terror" than it does in English. Who even notices, in English, that the ter, in deter, is from the Latin terreo, "to frighten"? But I am told you can't escape the root in Chinese. As a result, Chinese speakers don't like to use "deterrence" to describe their posture.
This past year, the China Academy of Engineering Physics translated my book into Chinese. When the title — Nie's phrase — was translated back into Chinese, the translator picked 最起码的报复手段 — with 报复 ("revenge") replacing 还击 (to "fight back" or "retaliate").
Again, my Chinese is lousy, but I am told that 报复 has a much more bloodthirsty quality than Nie's original choice of 还击.
PS: If you are obsessed with translation issues, Adam Thirlwell had a wonderful article in The Believer.