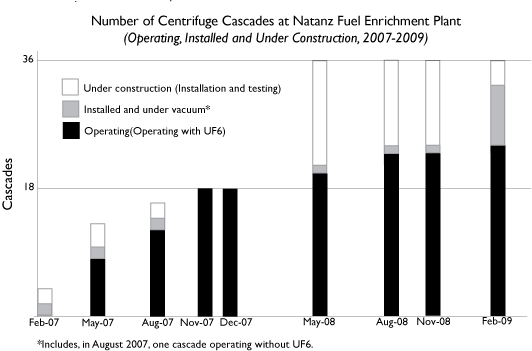 I wanted to talk about Joby Warrick's story, Iran Easing Aspects Of Nuclear Program, Report Cites Lag at Centrifuge Facility. A senior UN official told journalists that Iran has slowed installation of a second module of 3,000 centrifuges:
"The pace of installing and bringing centrifuges into operation has slowed quite considerably since August," a senior U.N. official said in briefing journalists on the new IAEA inspection report. The official, speaking on the condition that he remain anonymous, said the agency "has no information" to explain the slowdown.

[snip]

On Tuesday, IAEA chief Mohamed ElBaradei hinted at the report's findings at a news conference and suggested that Iran may be attempting to send a positive message to President Obama.

"They haven't really been adding centrifuges, which is a good thing," ElBaradei said. "Our assessment is that it's a political decision."
I don't know about ElBaradei's interpretation.
If you look at the chart at the beginning of this post, it shows the number of cascades at the Natanz Fuel Enrichment Plant. (Readers should recall that this does not include centrifuges at the Pilot Fuel Enrichment Plant and that the 18 and 36 cascade marks correspond to about 3,000 and 6,000 centrifuges).
I made sure the x-axis is cardinal, rather than merely ordinal.
You can see the "lag" quite clearly in the number of centrifuges that Iran is operating. The Iranians brought online the 18 cascades in the first module by November 2007. Since then, Iran has bought only six additional cascades online — three after May 2008 and only one since August.
On the other hand, the slowdown may just be an artifact of how Iran is installing cascades. In addition to the 24 operating cascades, Iran has another nine installed and under vacuum. These could come online very soon, mostly likely before the next Board Report. Iran could easily have 5,400-6,000 centrifuges operating by May.
It seems to me that, rather than a political decision or technical difficulties, the Iranians are just changing their installation patterns.
I am interested in other people's thoughts, but I suspect the Iranians are actually scaling up their installation work. Here is my hypothesis:
Initially, the Iranians were building one cascade at a time, like a succession of small art projects. They had limited experience installing cascades and probably a small number of trained personnel. So, in the Board Reports, one would see a pattern: a few cascades, one or two under vacuum and a handful under installation. In the next report, the cascades under vacuum testing would have become operational, while a few more of the ones under installation had graduated to vacuum testing.
Now, Iran seems to have shifted to mass assembly. Installation on all the cascades in the second module has proceeded more or less simultaneously. So instead of small, but steady, increases in the number of centrifuges, I would expect the installation to resemble a step function in the future — with each increase being relatively large. Hence, the nine cascades about to brought into operation.
It isn't clear where this stops — Iran is continuing installation work on three more modules that will each hold 18 cascades. The IAEA report suggests that the work is related to "the installation of pipes and cables" for future centrifuges — but no actual centrifuges yet. It will be interesting to see how quickly the Iranians scale up their installation effort in the future modules.
It would be nice if the Iranians were to forgo feeding hex into those nine cascades, but I don't see why they would do us that particular favor. The incentive for Tehran right now is to install as many centrifuges as possible. And there is real danger if political leaders create a false hope that the Iranians are slackening the pace of installation, when I suspect that hope will feel like betrayal when the Iranians hit six large (6,000) this spring.
Tomorrow, I am going to try about why I think it is a mistake to focus on breakout relative to other scenarios.