There has been a lot of technical discussion about the North Korean fuel rods, from their size to how they are stored.
Now, the South Korean government has a released pictures of a rod and the rods in storage. Awesome!
Photos of North Korea's unused fuel rods to produce plutonium, the material for nuclear weapons, are disclosed yesterday. The photos were taken Jan. 16 at a warehouse of a nuclear fuel rod factory in North Korea by a South Korean fact-finding team led by Hwang Joon-guk, chief of the Foreign Affairs and Trade Ministry`s policy planning bureau on the North`s nuclear program.
Thanks Allen Thomson, you rule!
David Albright and Kevin O'Neill claim that each uranium fuel rod has "a diameter of 2.9 centimeters, a length of 52 centimeters, and a mass of 6.242 kilograms." That's a 18:1 length to diameter ratio, which is broadly consistent with the image.
Somebody want to throw that into SketchUp and make sure?
Update: Friend of Wonk Derek DeJong modeled the image in SketchUp and, yes, it is indeed as David Albright and Kevin O'Neill suggest. Click on the image for the SketchUp file (it is live now):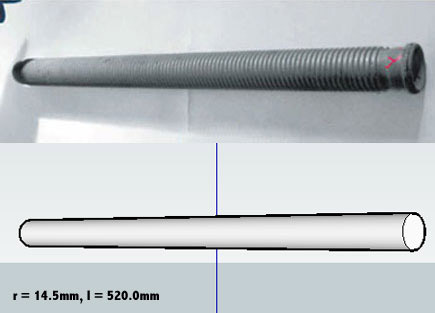 You rule, too, Derek!