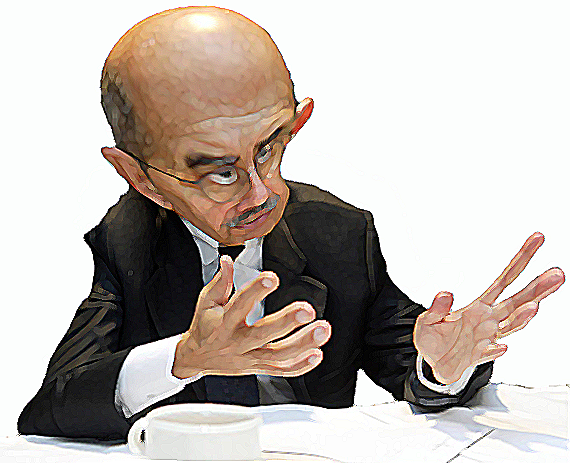 Lally Weymouth interviews Mohamed ElBaradei in the Post. It's a total trainwreck. A sampling:
Q: Some in the United States claim that between 2003 and 2007, you protected Iran because you did not want to see a U.S. military attack on it. In retrospect, do you think you allowed Iran to push the limits?

A. This is a complete misunderstanding. We have done as much as we can do in Iran to make sure that we understand the history and the present status of their program, to try to push them as far as we can within our authority to come clean. The idea people have that we are God, that we are able to cross borders, open doors . . . . We don't have that authority. . . . I am very proud that within the limited authority we have, we have been able to understand the scope of the most sensitive part of the Iranian program, which is the enrichment program, which is now under complete agency inspection.

The Iranian enrichment program is now under inspection?

We know how much they produce in terms of enriched uranium.

Highly enriched uranium?

Low-enriched uranium.
You were elected director with the support of the U.S., and later the U.S. treated you quite badly.

It was during my third reelection when former U.S. ambassador to the U.N. John Bolton initiated a campaign to block my reelection. They did not get one single country to stand against me, and in the end, I was elected by consensus, with U.S. support. You can disagree with the head of the international organization — we are not there to implement the policies of one country. We are supposed to be independent, but we always have to be impartial and objective. If an organization like IAEA is regarded as a broker for one country, it will be killed.

Is that what you thought the U.S. wanted you to do?

They did not like that we said we haven't seen Iran developing nuclear weapons in 2003.

The IAEA said that?

We did not see proof that Iran had a nuclear weapon . . . . In 2007, the [U.S. intelligence community's] National Intelligence Estimate said yes, Iran might have done some studies, but they stopped in 2003. We have been vindicated in Iran, we have been vindicated in Iraq before. We are not beating our chests and saying, "We were right, and they were wrong." They need to understand that we have to continue to report on what we see.
For the record, I really don't think ElBaradei should offer an opinion on whether Iran has a nuclear weapons program or not. The IAEA Statute empowers the agency to safeguard materials, equipment and facilities, as well as special fissionable materials.
The Director can say whether the Agency can verify Iran's declaration, whether there are undeclared nuclear materials or activities in Iran and whether the state is in compliance with its obligations. Those are incredibly important judgments and they don't need to be accompanied with comments that are out of the DG's jurisdiction.
The IAEA Board of Governors found Iran in non compliance its obligations and, most importantly, that the Agency is "not in a position to conclude that there are no undeclared nuclear materials or activities in Iran."
Although I find compelling the argument that Iran "halted" (I prefer "paused") its weaponization program in late-2003, I really don't think the IAEA DG should give Iran what will be interpreted, again, as a clean bill of health.