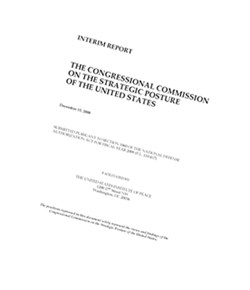 The Strategic Posture Commission has released its interim report.
For what it is worth, I think Hans K has it backward. The report doesn't "reinstate Russia at the center of U.S. nuclear thinking" as he suggets, so much as it observes the reality that US strategic planning has not moved on from a Russia-centric model— whatever the Bush Administration might say. Here is the paragraph from the report:
The size of our nuclear deterrent continues to be driven in part by the size of Russian nuclear forces—as well as Russia's doctrinal embrace of greater reliance on tactical as well as strategic nuclear weapons.
As I read that statement, it is true: The size of the "operationally deployed" force — which corresponds neither to forces available on day-to-day or generated alert — is set to numerical parity with Russia.
One of the report's stronger arguments is that, of the four "security imperatives" identified, "None … can be achieved unilaterally."
That's a big thought and it has profound implications for how we think about the threat posed by Russia. That implication is never made explicit, but one can see glimmers in the description of the threat posed by Russia and China:
Although Russia and China do not pose a nuclear threat to the US, they do have an extensive nuclear capability that could do grievous damage to us (as we to them).
It's the existence of the weapons that creates a shared danger, which requires cooperation to manage.
Think about that for a little while.