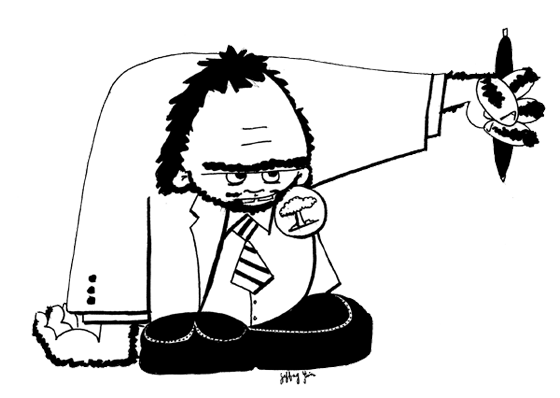 I've now gotten several emails asking who was the inspiration for the Cold War Troglodyte. One writer wondered if it was an amalgam of Keir Lieber and Daryl Press. Another thought maybe Ward Wilson.
This is ridiculous.
Given that Press and Lieber are about as far from Ward Wilson as I can imagine, I realize that everyone I've attended conferences with for the past few months is probably wondering if post refers to them.
Stop what you are thinking; it is not you.
It is certainly not Keir, Daryl or Ward — all of whom I respect, like tremendously and invited to give talks at New America. It isn't really anyone — it is a cartoon, not a real person.
As I said in the earlier post, the character was inspired by arguments that annoyed me, not some real-life wonk with a furrowed brow or sulking demeanor. And, since everyone is being all sensitive: the arguments that Keir, Daryl and Ward make, to the extent that I disagree with them, are NOT, REPEAT NOT, the sort of arguments that I would choose to parody with a caveman using powerpoint.
Look, the odds are that, unless I've actually told you directly that I think your slides would make nice cave paintings, I don't think you are a Neanderthal.
It was a joke everybody. You can calm down.